Bill Nye Danced Down A Runway To Lizzo's 'Juice' For NYFW & It Was Magical
By Peyton Blakemore
February 10, 2020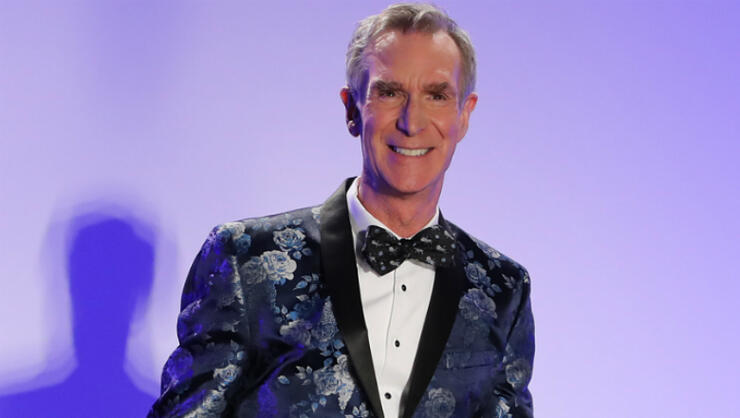 Who knew Bill Nye the Science Guy had moves?
While participating in a New York Fashion Week show over the weekend, the famous engineer and science commentator was feeling "good as hell" (pun intended) as he walked... well danced down a catwalk to Lizzo's "Juice."
Bill, who was sporting a blue floral blazer for The Blue Jacket Fashion Show, turned heads when he decided to dance instead of strut down the runway as Lizzo's famous hit played over the speakers.
As seen in a video that captured Bill's dance moves, the crowd appeared to love the 64-year-old's runway freestyle as some yelled "Let's go Bill" from their seats. (See the video HERE)
Jessica Weiss, who had a front-row seat to all the action, shared footage of Bill's runway dance to Tik Tok and it quickly racked up millions of views across social media. She told CNN, "When he started dancing to "Juice" by Lizzo I knew it would be very popular because they are both iconic."
Jessica added, "This is my third fashion week and I've never seen anyone have as much fun as Bill Nye when walking down the runway."
The Blue Jacket Fashion Show brings fashion, entertainment, sports and media worlds together to raise awareness and funding for prostate cancer research. Top fashion designers, including Brooks Brothers, Michael Kors, Hugo Boss and John Varvatos, reinvent the traditional blue blazer and male actors, athletes, and other leaders in entertainment, arts, and business walk the runway wearing the one-of-a-kind creations, according to their website.
Photo: Getty Images
Chat About Bill Nye Danced Down A Runway To Lizzo's 'Juice' For NYFW & It Was Magical