Backstreet Boys Reveal Some of Their Most Romantic Memories
By Taylor Fields
February 14, 2020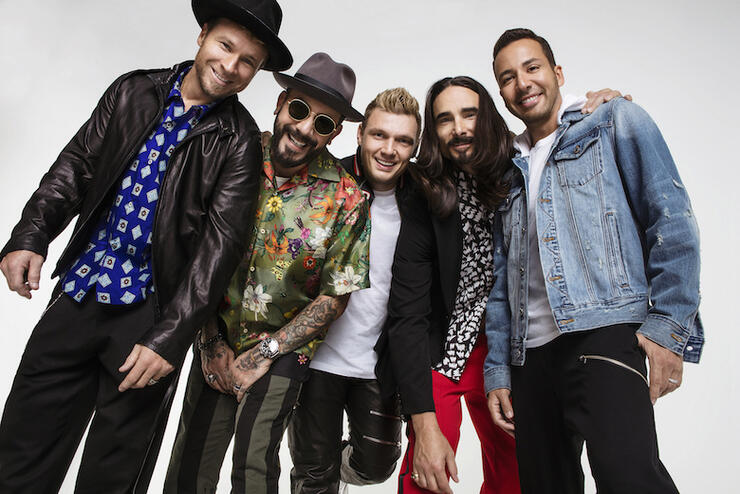 The Backstreet Boys gave an early Valentine's Day gift to fans this week when they announced that their "DNA World Tour" will be extended and continue this summer.
The tour kicks off on July 10th at Jones Beach Theater in Wantagh, NY and take the guys across North America stopping in cities including Hartford, Virginia Beach, Pittsburgh, Cleveland, Chicago, Seattle, Salt Lake City, Denver, Boston, Atlanta and more before wrapping up on October 9th at the Hollywood Bowl in Los Angeles. Tickets go on sale on Valentine's Day, February 14th.
Fans will be able to win chance to see BSB on tour in Sao Paulo, Brazil by listening to Love Songs Radio on iHeartRadio. Get all the details right HERE.
In honor of their exciting news and Valentine's Day, each of the Backstreet Boys opened up some of their most romantic memories from over the years, including why they chose their wedding songs, special Valentine's Days with their wives, their first celebrity crushes and so much more. Read on below.
There are so many amazing love songs out there, and Nick Carter chose a classic for his wedding song, The Turtles' 1960s tune "You Showed Me." He tells us, "This was a song that my wife and I really loved because we related to the words. It's a really beautiful love song, and it's actually from past, in the 60s from a band called The Turtles. This is an era when The Beach Boys and The Beatles were really, really large. And it's also an era of music that I just really, really love because I think it's some of the best and most unique. And so we chose it to dance to at our wedding because we just thought like it would be sort of one of those gems from the past that maybe people sort of forgot about. And so it became our love song. And this is a song that I loved, it's called 'You Showed Me.'"
While many songs are nostalgic, it's the Beatles' music that makes AJ McLean think of his wife. He says that, "My wife's the biggest Beatles fan in the world. And also anything Disney related, because of my daughters. So, yeah, I think anything Beatles."
Backstreet Boys fans might have their own opinion on what the most romantic song of the band's is, but Kevin Richardson believes it's "Back To Your Heart" from their 1999 Millenium album. He tells us, "I think the most romantic BSB song we've ever released on album would be a song that I wrote called 'Back To Your Heart.' I wrote it for the woman that became my wife."
"Back To Your Heart" is an extremely heartfelt song, but there is a classic love song out there that Nick says that he wish he could have written, and that is Bryan Adams' 1991 romance anthem "(Everything I Do) I Do It For You." He says, "Well, I'd like to say I'm like a big fan of some of the 80s and even some of the early 90s stuff. But one song that really stands out to me and that I think, 'God, I wish I would've written' was '(Everything I Do) I Do It For You' by Bryan Adams. I'm a huge Bryan Adams fan, and the fact that the song was in a movie made the residuals a lot more too, I'll tell you that. But honestly, you would've been a part of something super historical like Robin Hood: Prince of Thieves and a big blockbuster number one song. I mean, this thing, it didn't even leave the charts, so huge. [I'm a] fan of that song. I wish I would've written that."
BSB also opened up about Valentine's Day and all the love-filled holiday entails. AJ revealed that his most memorable Valentine's Day included an intimate outdoor dinner with his wife. He recalled, "I decided to cook a romantic dinner outside on my veranda, at my house in West Hollywood, years ago with my wife. I made dinner and we had candlelight, and it was really, really romantic."
A thoughtful candle-lit dinner for you and your significant other is incredibly sentimental, but Brian Littrell once flew his wife out to Hawaii for a romantic getaway while on tour. He tells us, "The most romantic thing I have done for my significant other, being my wife Leighanne, would have to be most recently last year. Backstreet Boys were performing in Hawaii for the first time. We didn't do one show, we did four shows in Hawaii, that was pretty cool. So I sent for my wife to fly from Atlanta to come and see me for a week and spend the last week in Hawaii, just her and I, so we could have some Mommy/Daddy time. I had some champagne, and I upgraded my room at the hotel to a beautiful suite, and we had our own private pool. And I also flew some good friends out as well to spend the whole week with us. I did get some flowers as well, but on the other hand, this September we'll be celebrating 20 years married, so hopefully I can top that this year."
Howie Dorough has been married to his wife for 13 years, but he can still remember the very first Valentine's Day gift he ever received as a fourth-grader. He remembers, "My first Valentine's gift I can remember was back in the fourth grade. I had a secret admirer who gave me this big heart-shaped chocolate chip cookie. It was probably one of the best cookies I'd ever had in my life at that time. It was such a sweet gesture from her, and so that night the school had a roller skating party at the local roller skating rink, and the DJ played a Valentine's song, so I asked her if she would take a stroll on the rink with me. We held hands and looking back, it was such a sweet, fond memory that I'll never forget."
Speaking of firsts, Brian tells us that his first celebrity crush was Sandra Bullock. He recalls, "I remember filling out all the teen magazines and all the things we did 20-some years ago, and I put Sandra Bullock on my first celebrity crush issue. She, I think, was just getting started when the Backstreet Boys were starting in the early 90s. And, always had a crush on Sandra. And, I think my wife did too, which is kind of unique."
Although he'll never forget his grade school secret admirer, Howie adores his wife and does everything he can to show her his love when he is not on tour, because he tells us his love language is acts of service. He revealed, "My love language is acts of service. My wife is such an amazing person and takes care of the kids all the time. So whenever I come home off of the road, I do whatever I can to help her out; whether it's taking care of the kids in any way possible, taking them to school, making them breakfast, making her breakfast, doing the dishes, taking out the trash, doing the laundry. Whatever I can do to show her my love and appreciation."
Finally, Valentine's Day is also known for all of the amazing candy your significant other or secret admirer might gift you, but what is the greatest V-Day candy of all time? For Kevin, it's the heart-shaped peanut butter cups! He says, "I'm a peanut butter fan, so I'd say a chocolate heart with peanut butter inside, like Reese's or an organic chocolate heart with peanut butter on the inside. It's my favorite."
Don't forget to listen to Love Songs Radio on iHeartRadio!