Pat Sajak Baffled By 'Wheel of Fortune' Puzzle Solve
By Emily Lee
February 11, 2020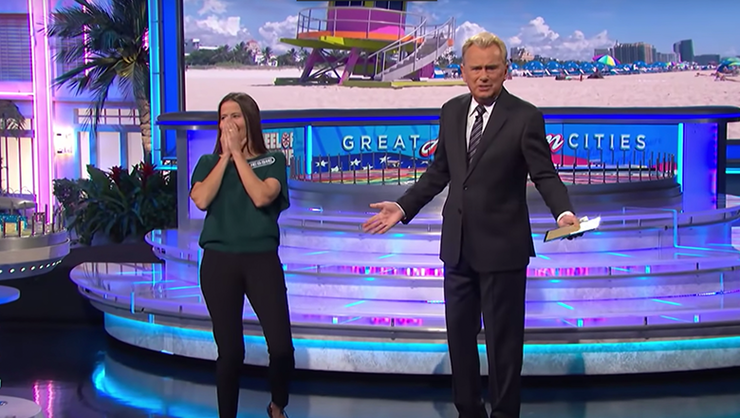 Just when you think you've seen it all on Wheel of Fortune, a contestant manages to completely surprise you. That's what happened on a recent episode when a Wheel of Fortune contestant managed to do what few others before her have achieved. She solved the final bonus puzzle with only four letters. Not only were viewers completely stunned, Pat Sajak was, too.
Jessie Rebhan, a teacher at an elementary school in Miami, competed on the long running game show on Thursday (February 6). With just a few seconds left on the clock, Rebhan did what we all thought was impossible. She guessed the remaining nine letters in her final bonus puzzle. You can watch the epic moment go down below:
The chosen category for the final bonus puzzle was "What Are You Doing?" Rebhan was giving the letters R-S-T-L-N-E and chose P-C-D-O. Unfortunately for Rebhan, the only letter included in the puzzle was C. It seemed like solving the final puzzle was impossible. Even Sajak told his contestant that " it looks daunting to me" before wishing her good luck.
Amazingly, though, Rebhan only need a few seconds to guess the correct answer. She instantly recognized that the clue ended in the word "juicer" before she correctly guessed the answer. "Buying a juicer!" she enthusiastically stated with only five seconds left on the clock. As a result, Rebhan added an additional $37,000 to her winnings. Her final amount ended up being $52,328, as well as a trip to Barbados.
"Of course, it's an easy one," Sajak joked, looking at the camera with a stunned expression. Then he added "I don't understand this game!" as Rebhan celebrated her epic win.
Photo: Wheel of Fortune
Chat About Pat Sajak Baffled By 'Wheel of Fortune' Puzzle Solve