Kim Kardashian-West Talks Surrogacy, Prison Reform, and More on All's Fair
By Diana Brown
February 13, 2020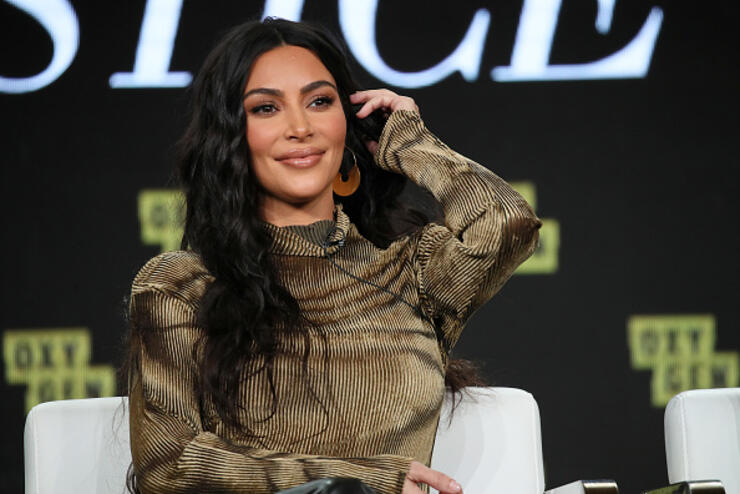 On All's Fair, Hollywood's go-to divorce and family attorney Laura Wasser and her best friend, reality show casting director Johnnie Raines, examine love, relationships, break-ups, parenting, and more, talking with celebrity guests, innovators, and experts to answer questions and trade anecdotes. On the inaugural episode, they sit down with socialite-turned-social justice advocate Kim Kardashian-West at her Calabasas condo for a candid conversation about her incredibly difficult pregnancies and her experiences with surrogacy, what's really in her fridge, what's going on with her various brands and businesses, how and why she worked to get Alice Marie Johnson freed from prison, her aspirations to become a lawyer, and much more.
Kim had two of her babies, North and Saint, from natural pregnancies, but they were extremely difficult, she says, because she had pre-eclampsia and other complications that led her doctors to tell her not to try again. In fact, when she asked to have one of her frozen embryos implanted, one of her doctors said "it would be malpractice" to do it. So Kim and Kanye, wanting to grow their family, turned to surrogates for a solution. She describes the process, talking about freezing eggs, getting surrogate brokers and agents, interviewing the women involved, and more, effectively showcasing how complex it can be, both emotionally and legally. Laura says surrogacy has faced criticism because it's extremely expensive, and Kim says that's certainly true, but if you want a family, why should anyone stand in your way? 
She also talks about what drew her to Alice's case, saying that she read about a single mother who was desperate to support her four children and got caught up in a drug trafficking scheme, acting as a "telephone mule" between the conspirators. When the scheme was found out, Alice was advised to plea-bargain, but decided not to; as a first-time offender, she thought she'd be allowed to go home to her children. But thanks to mandatory minimum sentencing policies, Alice was given a life sentence. For a first-time, non-violent offender "to get the same sentence as Charles Manson," Kim points out incredulously, "it just didn't make any sense to me." Her work to free Alice lit a fire in Kim to read law in California and work toward prison reform. 
Laura, Johnnie, and Kim explore all this as well as spilling some behind-the-scenes tea about the upcoming season of Keeping Up With the Kardashians, why Kim has so many different kinds of milk in her fridge, her solo cover for Vogue, her surprising plans for her shapewear brand, and much more on this episode of All's Fair.
If you want to be sure you're listening to the podcasts everyone else is checking out, iHeartRadio has you covered. Every Monday, iHeartRadio releases a chart showing the most popular podcasts of the week. Stay up to date on what's trending by checking out the chart here. There's even a chart just for radio podcasts here, featuring all your favorite iHeartRadio personalities like Bobby Bones, Elvis Duran, Steve Harvey and dozens of others.
Photo: Getty Images