Demi Lovato Brings Back #NoMakeupMonday with Gorgeous Makeup-Free Selfie
By Taylor Fields
February 24, 2020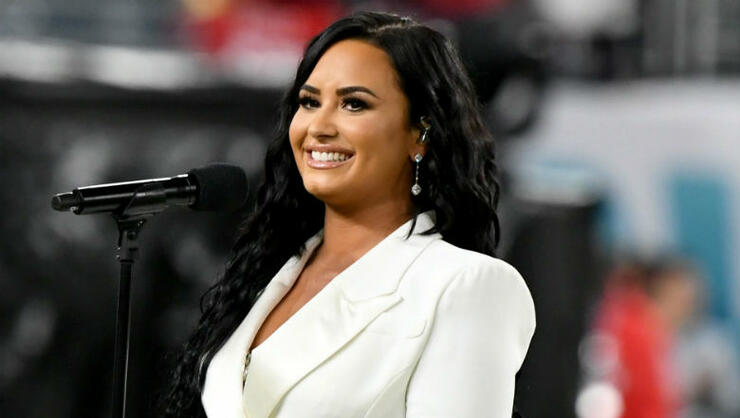 Several years ago, Demi Lovato started a social media movement as she posted makeup-free selfies as she celebrated what she called #NoMakeupMonday, and now, she's bringing it back!
After sharing several photos of some gorgeous glam over the last few days, Lovato took to social media to post a beautiful fresh-faced selfie sans makeup along with an important message. She wrote, "Haven't done a #NoMakeupMonday in yearssss but I figured after posting so many glamorous pics with tons of makeup and hair pieces, it's important to show myself underneath it all. This is what I look like 85%-90% of the time. Proud of my freckles, proud of booty chin and proud of myself for loving and accepting myself the way I am. #ILoveMe."
Many of Demi's famous friends and peers shared their love for the singer and her latest photo as they praised her in the comments. Normani wrote, "beauty," while Kelsea Ballerini said, "Stunning." Demi's manager Scooter Braun also commented on the picture with a line of hand clapping emojis.
Lovato's new #NoMakeupMonday post comes after the debut of her appearance on Ashley Graham's Pretty Big Deal podcast, during which she opened up about her mental health journey, the ups and downs she's experienced, struggling with eating disorders and her recovery process. On her Instagram stories, Demi shared of the episode, "Woke up feeling not super confident even tho my PBD episode just came out. Let this be a reminder to anyone struggling out there -- this life is a journey with tons of ups and downs but you can't give up." She added, "I deal with sh-- on the daily but I know I'm gonna be okay with God on my side. Also you guys, my friends and family are pretty helpful too." 
Demi also posted a Polaroid picture of her with Ashley, along with the message, "Thank you Ashley for allowing me to really open up about my faith, boundaries, my body acceptance journey, and what my future holds. We had such an honest and real conversation... I can't wait for you guys to watch and listen."
Fans can listen to Demi on Graham's Pretty Big Deal podcast on iHeartRadio: