Hilary Duff Confronts 'Creep' For Taking Pictures Of Her Kids
By Paris Close
February 24, 2020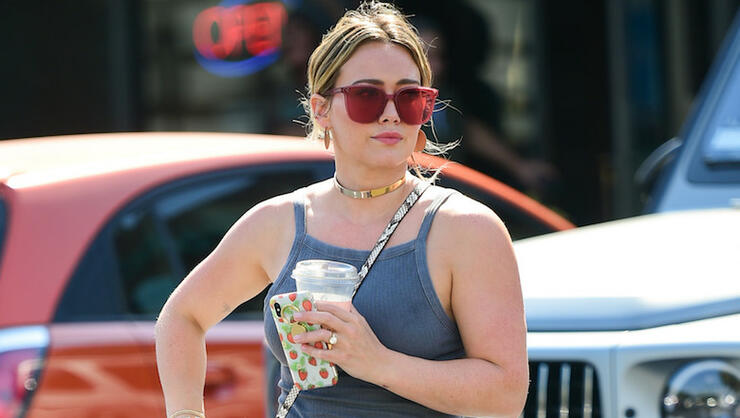 Hilary Duff put a man on blast for snapping photos of her kids without her consent.
On Saturday (February 22), the Younger actress came face-to-face with a male photographer who had been taking images of kids, hers included, playing football at a park. (Duff has two children: 7-year-old son Luca, and 1-year-old daughter Banks.) "Paparazzi shooting KIDS Go 'practice' your photography on ADULTS! Creep! Laws need to change! This is stalking minors! Disgusting!" Duff captioned a video of the confrontation on Instagram. (Scroll down to watch.)
In the clip itself, the pop star actually approaches the man to see what's going on. "Do you know any people on the team? Can you stop taking pictures of the kids please?" Duff asks the guy, who simply responds, "It's legal." Expressing her discomfort with his presence at the park, the man then offers to present ID — but she isn't having it.
"I'm not asking for your ID. I'm asking you to stop taking pictures of our 7-year-old children if you don't know anyone that's here," she replies. "I'm asking you human-to-human — as a mother — if you don't know anyone here, can you please stop taking pictures of our children playing football this morning?"
The guy explains he's "practicing photography," adding, "I'm not here to scare you or anything like that," to which Duff responds, "Well, you are."
"Your paranoia is unwarranted," he goes on. "No, it's just an uncomfortability factor that these are 7-year-old children and you don't have a child here," Duff replies. "They're our children and we would like to protect them."
It's when Duff threatens to share the video to her 15 million followers that the clip ends as the photographer places his hand over her phone. Since sharing the video, the comments section has been divided, to say the least, with some siding with Duff and others claiming she abused her power.
"This is sick, paparazzi or not, no one should be taking pictures of other people's children," one user wrote, whereas another added, "That man isn't breaking any laws he offered to show his ID... if there was a problem that's what cops are for..."
However, a majority of the comments, like this one, accuse Duff of racial bias: "If this want racial profiling, I dont know what is. Poor guy. He even offered to show his ID but you wanted nothing to do with it. Guarantee if he was white it wouldnt have been a problem."