Pete Davidson Just Called Ariana Grande 'The Queen Of Shade'
By Emily Lee
February 24, 2020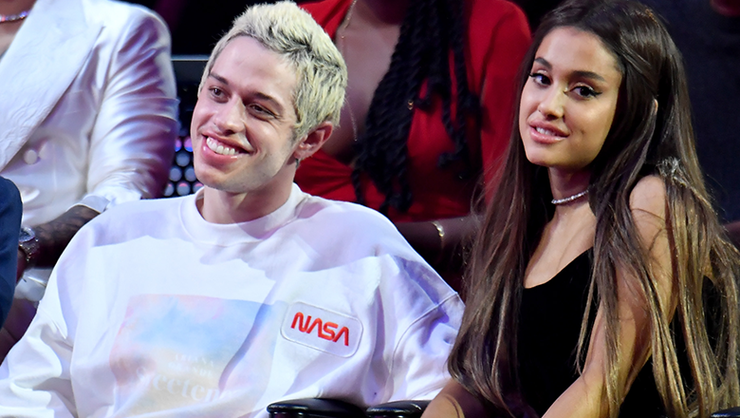 Shortly before dropping his new stand up special Pete Davidson: Alive From New York on Netflix, the 26-year-old comedian sat down with The Breakfast Club's Charlamagne Tha God for a lengthy, wide-ranging interview. Unsurprisingly, Pete and Charlamagne's conversation quickly veered towards the Saturday Night Live star's personal life, including his short lived engagement to pop star Ariana Grande.
In Alive From New York, Pete talks about his whirlwind engagement. According to Charlamagne—who viewed the stand up special before it premiered—the '7 Rings' singer is "a punchline" in a few of Pete's jokes. While Pete admitted his ex and their failed relationship is used as fodder for jokes in his special, he says "being genuinely hurtful is off limits." He also told Charlamagne he wants "to be cool with everybody" and feels it's his right to address his breakup in the special. "That was a highly publicized thing," he explained. "I feel like she got her fair run and her fair stab at it. I don't have social media and I don't have an outlet really to express my feelings so stand up is just how I do it. I just have some jokes about it."
Pete also spoke about whether or not Ariana really threw shade at him at the Grammys. During her performance of 'Imagine,' 'thank u, next' and '7 Rings' at the awards show, Ariana took off an engagement ring and put it back in its box. Many viewers took this bit of choreography as a stab at Pete. "I'm sure she was [throwing shade]," Pete said. "She's the queen of shade. Again, I get it. That's her job. That's her aura. She has music to it and stuff. I get it. I hope people feel the same way about my jokes."
Though Pete is fine with Ari throwing some shade his way every now and again, he admits that now being known as Ariana Grande's ex-fiance before his career as a comedian and actor can be really frustrating. "It hurts. It definitely hurts," he admitted. "I've been doing this for a long time. Like 10 years. It sucks for, like, a six month thing to completely take over that."
As for how Ariana feels about Pete's stand up special, well, that remains to be seen. Pete Davidson: Alive From New York drops on Netflix on Tuesday (February 25).
Photo: Getty
Chat About Pete Davidson Just Called Ariana Grande 'The Queen Of Shade'