Democrats Clash in Debate in South Carolina
By R.J. Johnson - @rickerthewriter
February 26, 2020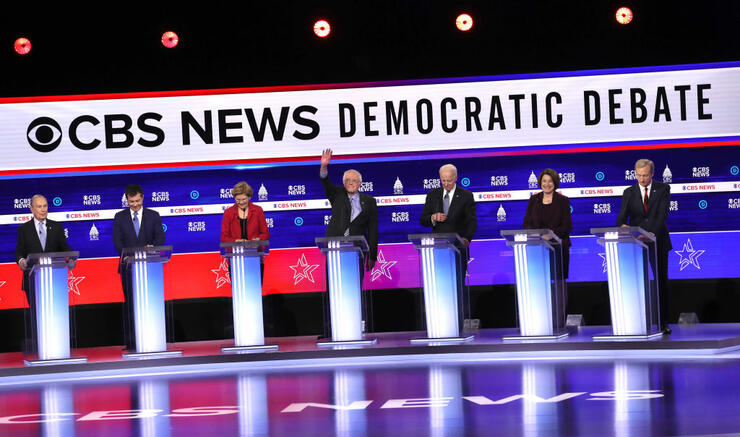 Seven Democrats took the stage in Charleston, South Carolina, Tuesday night to plead their case to American voters in a debate
Vermont Senator Bernie Sanders, whose recent wins in New Hampshire and Nevada have cemented his status as the current front-runner in the Democratic primary, found himself as the target of several attacks through the night from the six other candidates, who sought to differentiate themselves from the self-declared Democratic Socialist's campaign.
In order to qualify for tonight's debate, candidates must have at least one pledged delegate to the National Democratic Convention from the previous three contests. They could also qualify if they reached at least 10% in polling in four national or South Carolina polls.
The candidates who met the criteria and will be appearing at tonight's debate include:
Vermont Senator Bernie Sanders
Massachusetts Senator Elizabeth Warren
Former South Bend Mayor Pete Buttigieg
Former Vice President Joe Biden
Minnesota Senator Amy Klobuchar
Billionaire investor Tom Steyer
Former New York City Mayor Mike Bloomberg
Hawaii congresswoman Tulsi Gabbard was unable to qualify for tonight's debate.
Unlike the debate in Nevada, where former Mayor Michael Bloomberg was the main focus of attacks from other candidates, Vermont Senator Bernie Sanders had the largest target painted on his back, after he cemented his front-runner status with a first place finish in Nevada last week. The first question of the night was directed at Sanders, as moderators asked how he could convince the American public that a Democratic Socialist would be able to better handle the economy than President Donald Trump.
Sanders made the case that the economy is working, but only for the wealthiest people in the country.
"The economy is doing really great for people like Mr. Bloomberg," Sanders said. "For for the ordinary American, things are not so good."
"That is not an economy that's working for the American people," he said. "That's an economy working for the 1%. We're going to create an economy for all, not just wealthy campaign contributors."
Bloomberg attacked Sanders, saying that Russia was "helping you [Sanders] get elected."
"Oh, Mr. Bloomberg." Sanders said. "Hey, Mr. Putin, if I'm President of the United States, trust me, you're not going to interfere in any more American elections." 
Former Mayor Pete Buttigieg added to the pile on for Sanders, saying Russians were looking to sow chaos in the 2020 election.
"They don't have a political party. They want chaos. And chaos is what is coming our way," Buttigieg said.
Senator Elizabeth Warren also went after Sanders, saying that while she was on Sanders' side on a number of progressive issues, he didn't have the right approach to health care.
"Bernie and I both want to see universal health care, but Bernie's plan doesn't explain how to get there. Doesn't show how we're going to get enough allies into it and doesn't show enough about how we're gonna pay for it," Warren said. "I dug in, I did the work (on the financing) and then Bernie's team trashed me for it."
Biden criticized Sanders on another front, for his vote against the Brady Bill in 1993 and for his comments in 2012 in which the Vermont Senator said that he or someone should primary then-President Barack Obama. Biden pointed out that he had asked for a longer waiting period before handgun purchases in the Brady Bill over what Sanders supported. The former vice president pointed out that tonight's debate was being hosted only a few miles away from the Mother Emanuel AME Church in Charleston, where a white supremacist killed nine church-goers.
"I'm not saying he's responsible for the nine deaths, but that man would not have been able to get that weapon had the waiting period been what I suggested," Biden said. 
While Sanders was the main focus of attacks, the candidates onstage didn't forget about their favorite punching-bag from last week - former Mayor Michael Bloomberg - who was again taken to task for his support for the controversial 'stop-and-frisk' policy during his time as mayor of New York City.
When Mayor Pete was asked if he believed stop-and-frisk was racist, Buttigieg responded that "Yes, in effect, it was. Because it was about profiling people based on their race."
Buttigieg also pointed out the fact that he was conscious about the fact that there were seven white people onstage talking about racial justice.
"None of us — none of us have the experience, the lived experience of -- for example, walking down the street, or in a mall, and feeling feeling eyes on us, regarding us as dangerous, without knowing the first thing about us justice because of the color of our skin."
Warren also went after Bloomberg, her favorite target of the night, saying the former mayor's past support of Republican candidates made him the 'riskiest candidate' on stage and someone Democrats couldn't trust.
"Who funded Lindsey Graham's campaign for re-election last time? It was Mayor Bloomberg. And that's not the only right-wing senators he has funded," Warren said. 
She pointed to Bloomberg's support of Scott Brown, who ran against Warren in the 2012 Massachusetts Senate election.
"It didn't work, but he tried hard," Warren added.
Bloomberg has supported multiple Republican candidates in the past, including Sen. Pat Toomey's re-election campaign in 2016, donating nearly $12 million to the candidate's campaign.
"I don't care how much money Mayor Bloomberg has. The core of the Democratic Party will never trust him. He has not earned their trust," Warren said.
When Biden was asked about recent polls that showed he was losing support among the black community, he said he would win South Carolina.
"I've worked like the devil to earn the vote in the African American community," Biden said. "I intend to win South Carolina and I will win the African American vote here in South Carolina."
The war of words escalated between Bloomberg and Sanders as the two candidates hit at each other's perceived weak points.
"We will elect Bernie, Bernie will lose to Donald Trump," Bloomberg said, pointing out it wasn't just the presidency at stake for Democrats. Bloomberg said other races, including Democrats running for election in the House and Senate would be hurt by having a Democratic Socialist at the top of the ticket.
"Some of the state Houses … will all go red," Bloomberg said. "For 20 years we are going to live with this catastrophe."
Sanders hit back at the billionaire candidate, saying he had a solid and "enthusiastic base of support."
"The problem is, they're all billionaires," Sanders said.
Buttigieg piled on Sanders, saying that nominating Sanders would lead to four more years of Donald Trump.
"The time has come to stop acting like the presidency is the only office that matters. Not only is this a way to get Donald Trump re-elected. We have a House to worry about. We have a Senate to worry about. And this is really important," Buttigieg said.
"If you want to keep the house in Democratic hands, you might want to check with the people who actually turned the house blue," Buttigieg said. "Forty Democrats who are not running on your platform. They are running away from your platform as fast as they possibly can. I want to send those Democrats back to the United States House."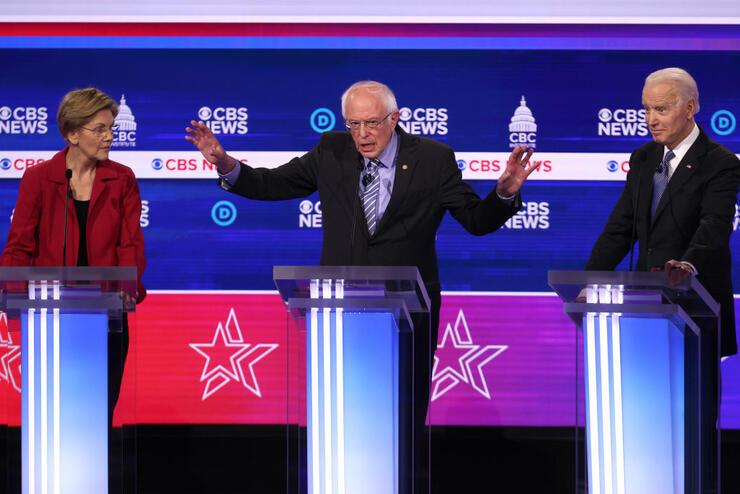 Multiple candidates hit Sanders over his policies, asking him how he will pay for his programs once he's in office, in particular how he would pay for 'Medicare-For-All.'
Sanders didn't specifically lay out how it would be paid for, but pointed to several recent studies that showed how it would save billions in health care costs overall, and save lives. However, Minnesota Senator Amy Klobuchar said the math didn't add up on Sanders' promises.
Mayor Pete Buttigieg went after the Vermont Senator for his lack of support to get rid of the filibuster in the Senate, which many have argued has stopped progressive legislation from passing due to the Republican majority in the senate necessitating 60 votes for any bill to pass.
"I want to come back to the question of the filibuster because this is not some long-ago bad vote that Bernie Sanders took, this is a current bad position that Bernie Sanders holds," Buttigieg said.
"How are we going to deliver a revolution if you won't even support a rule change?"
Buttigieg pointed out that they were debating in the very state where late Senator Strom Thurmond used the filibuster to block civil rights legislation.
"No less a Senate traditional figure than Harry Reid has called for it to go. It has got to go, because otherwise Washington will not deliver," Buttigieg said.
The moderators switched topics to Bloomberg's controversial proposed tax on sugary drinks and on trans fats during his time as mayor of New York City. The mayor defended the policy, saying it was important to support public health issues, but it wasn't a one-size-fits-all approach.
"What's right for New York City isn't right for every other city, otherwise we'd have a Naked Cowboy in every city," Bloomberg said.
He went on to cite a ban on smoking in public areas while he was mayor, saying that helped to improve people's health in New York City.
Candidates were asked about how they would go about providing adequate health care for people in rural areas of the country, especially for populations who are older, sicker and need to travel farther to get medical help.
Minnesota Senator Amy Klobuchar said she would help expand critical access hospitals in rural areas, pointing out that she was the lead Democrat on a bill that would expand emergency rooms in rural areas.
Mayor Pete Buttigieg said one of the major problems for many residents in rural areas was the fact that hospitals were closing "right and left."
"In particular, in states where medicaid was not expanded. Something that is hurting black and poor white families and is largely the results of racial voters suppression," Buttigieg said.
Sanders said under his Medicare-For-All plan that health care access would be available for all people in "all parts of the country."
The legalization of marijuana was brought up at the debate with Minnesota Senator Amy Klobuchar asked by the moderators that if as a former prosecutor, would she legalize marijuana on Day 1 of her administration, like her rival Bernie Sanders had said he would do on his first day in office.
"Well, it is realistic to want to legalize marijuana, I want to do that, too," Klobuchar said.
She added that there should also be money for treatment programs for 'repeat customers.'
Bloomberg took a more cautious approach, saying that small amounts of marijuana shouldn't be criminalized and they wouldn't take away legalization from states that have already legalized it. However, he said more research was needed on marijuana to know how much damage it does, especially to teenagers.
"Until we know the science, it's just nonsensical to push ahead," Bloomberg said.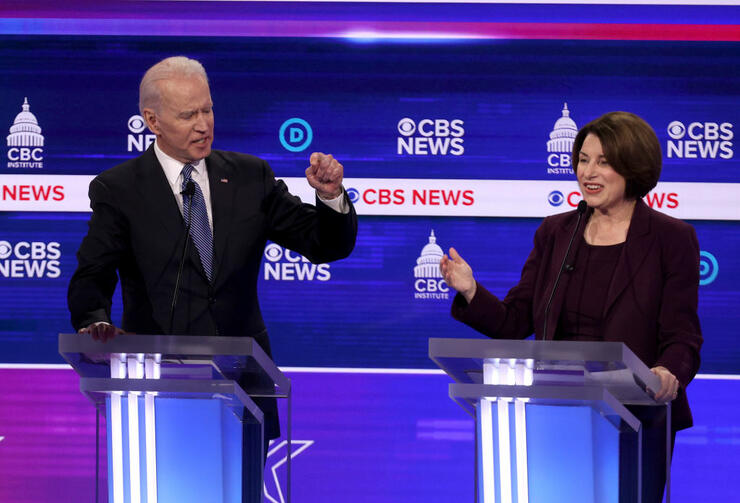 On the same day the Centers for Disease Control and Prevention said the American public should be prepared for a sustained outbreak of the COVID-19 coronavirus, moderators asked the candidates how they would address the growing epidemic if they were president.
Sen. Amy Klobuchar said treatment needed to be available for Americans who are diagnosed and that they would be placed in a quarantined situation, adding "We don't want to expose people, but we want to give them help."
Klobuchar added that instead of giving out her website, she would give out the CDC's website to encourage people to stay up to date on the outbreak.
Former Vice President Biden cited his experience with the Ebola outbreak as how he would treat the growing threat of the novel virus outbreak.
"I was part of making sure that pandemic did not get to the United States, saved millions of lives," Biden said. "What we did, we set up, I helped set up that office in the presidency, in the president's office on diseases that are pandemic diseases. We increased the budget of the CDC, we increased the (National Institutes of Health) budget. Our President today, he's wiped all that out. We did it. We stopped it."
Biden attacked President Trump for cutting funds to the CDC during the time of the outbreak, derisively referring to Trump's assurances that the outbreak would wane in the Spring.
"April is the magical date that this great scientist we have in the White House has determined," Biden said. "I wish I was kidding, that is what he said."
He added that as president, he would immediately restore that funding to the agency.
Senator Elizabeth Warren repeated her call for former Mayor Michael Bloomberg to release his tax returns, adding he was the only candidate who hadn't released them.
"We know that Mayor Bloomberg has been doing business with China for a long time, and he is the only one on this stage who has not released his taxes," Warren said. "He plans to release them after Super Tuesday. It is not enough to be able to say, just trust me on this."
She compared Bloomberg to President Trump, who also promised to release his taxes when he was running for president. Bloomberg replied that his campaign was working on releasing them as fast as they could.
"I got into this race only 10 or 12 weeks ago, we have been working on our tax returns, I've said they will be out, we probably have another couple of weeks left to go, we're doing it as fast we can, we've complied with every single requirement for disclosure," Bloomberg said.
He added that while serving as mayor of New York City, he'd released his tax returns 12 years in a row.
Sanders was asked to defend his past comments in which he praised Fidel Castro for doing things like establishing a literacy program in Cuba.
"Really? Literacy programs are bad?" Sanders said. "Authoritarianism of any stripe is bad. But that's different from saying governments occasionally do something good." 
Sanders attacked Bloomberg, who had demurred on his attacks on the Chinese government, saying he would work with them because its leader is responsive to the politburo.
"I was really amazed at what Mayor Bloomberg said a moment ago. He said that the Chinese government is responsive to the politburo, but who the hell is the politburo responsive to? Who elects the politburo? You have a real dictatorship there," Sanders said.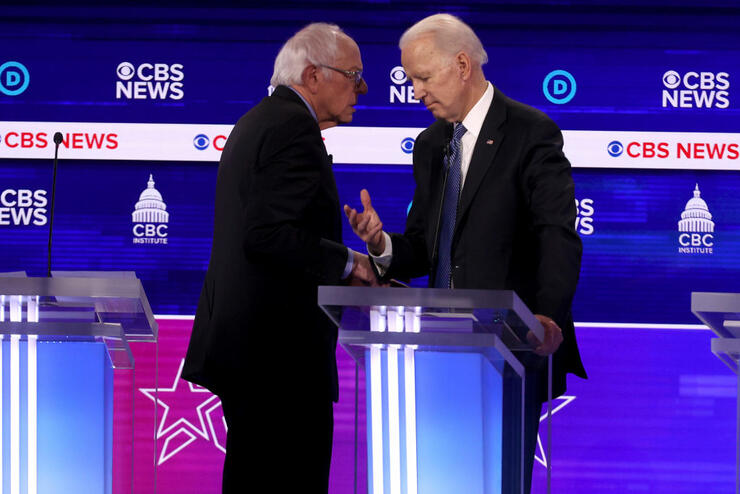 Finally, the candidates were asked to cite what misconception they'd like to clear up, and what their motto was.
Tom Steyer said every day he wrote "a cross on my hand to remind me to tell the truth and do what's right no matter what."
Senator Klobuchar quoted her political mentor the late Sen. Paul Wellstone, stating that her motto was "Politics is about improving people's lives."
Former Vice President Joe Biden said his motto had always been "When you get knocked down, you get up," and that "everyone's entitled to be treated with dignity."
When he was asked what the biggest misconception, Biden joked that he always believes that he has more hair than he actually does, to laughter from the audience.
Senator Bernie Sanders said the biggest misconception was that his policies weren't possible, quoting Nelson Mandela, "Everything is impossible until it happens."
Senator Elizabeth Warren quoted a bibical verse Matthew 25 as her inspiration, saying "Inasmuch as ye have done it unto one of the least of these my brethren, ye have done it to me."
Former Mayor of South Bend, Indiana, Pete Buttigieg said that "If you would be a leader, you must first be a servant" and that "We should treat others the way we want to be treated."
Former Mayor Michael Bloomberg, said his biggest misconception was that he was "six feet tall," to scattered laughs from the audience, adding that he'd "trained for this job for a long time and when I get it I'm going to do something, not just talk about it."
Voters head to the polls in South Carolina on Saturday, with a large contingent of states, including: Alabama, Arkansas, California, Colorado, Maine, Massachusetts, Minnesota, North Carolina, Oklahoma, Tennessee, Utah, Vermont, and Virginia where residents there will cast their vote for their preferred candidate on Tuesday.
The eleventh primary debate is scheduled for March 15, and will be hosted by CNN, Univision, and the Congressional Hispanic Caucus in Phoenix, Arizona.
Photos: Getty Images