Lady Gaga Teases 6th Album and Its First Single "Stupid Love"
By Taylor Fields
February 25, 2020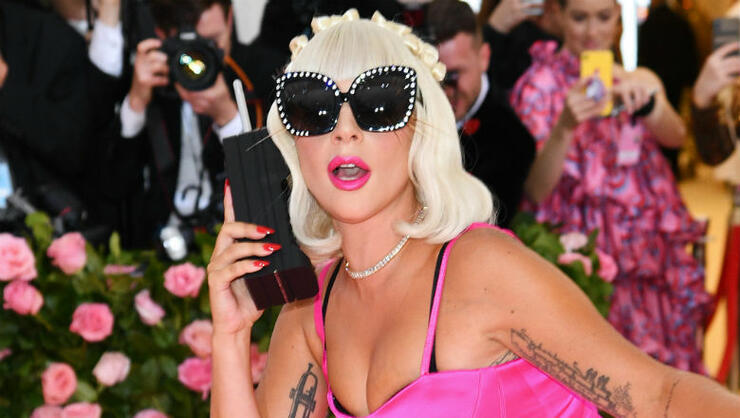 IT'S. FINALLY. HAPPENING. #LG6 is officially on its way, at long last, and we will have new music from Lady Gaga THIS WEEK! This is NOT a drill!
On social media, Gaga revealed that she is releasing her new single "Stupid Love" this Friday (February 28th) at midnight by sharing a picture of a billboard, and ladies and gents, there is a lot to unpack here. First, the billboard features a pair of pink glossed lips with "Stupid Love" written above them in a liquid-esque font and to the right are several images (from the song's music video perhaps?) that show Lady G in a pink cosmic look with an amazing long pink ponytail.
But, that's not all. Down in the lefthand corner of this billboard is "LG-6" which can only mean one thing: Lady Gaga's sixth album! AND, in tiny lettering at the very bottom is "CHROMATICA" which can also be found next to the several images on the right in a pink font (but sideways) — fans are speculating that "CHROMATICA" is the album's title. Furthermore, it looks like there is a date in the bottom left corner that could possibly, MAYBE, be the album's release date.
In the caption of her post, Gaga wrote, "'STUPID LOVE' THE NEW SINGLE BY LADY GAGA OUT FRIDAY AT MIDNIGHT ET #LG6."
While fans have been enjoying Lady Gaga's incredible music from A Star Is Born over the last year, Little Monsters have been waiting for movement on #LG6 for a while. — since Mother Monster herself shared THIS now-famous tweet nearly a year ago:
Seriously, fans have been relentlessly talking about this new album and speculating about any hints/info about it.
But, along the way, Gaga has assured us that she has been very hard at work on it. I mean, when you don't even have time to shower, your time MUST be completely dedicated to the studio, right?
#LG6
my assistant: when's the last time you bathed
me: i don't remember

— Lady Gaga (@ladygaga) December 19, 2019
This new album will be Lady G's first since 2016's Joanne. Since the release of her last LP, the recording artist has kept herself extremely busy not only appearing in A Star Is Born, but also with her ENIGMA residency in Las Vegas, as well as her makeup line Haus Laboratories. We stan a multi-talented creative queen.
Bring on #LG6!
Chat About Lady Gaga Teases 6th Album and Its First Single "Stupid Love"