Pop Smoke Murder Investigation: Officials Confused By Conflicting Evidence
By Peyton Blakemore
February 27, 2020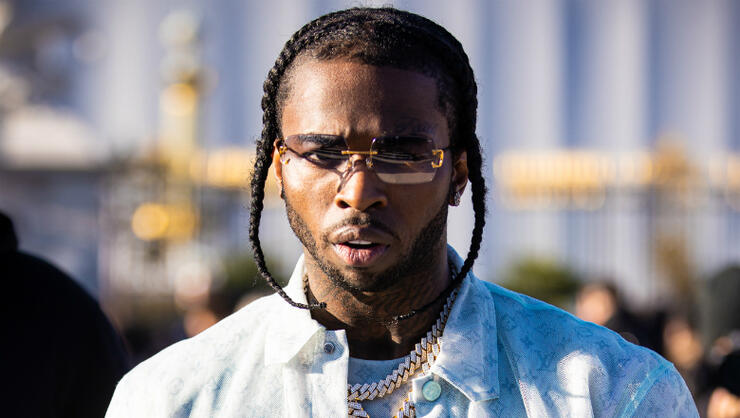 The motive behind Pop Smoke's murder remains a mystery.
According to the New York Times, the Los Angeles Police Department is still trying to figure out whether the 20-year-old rapper was the victim of a random robbery or if it was a targeted hit, "perhaps because of what he was posting on social media."
"It's an angle we're looking at," Captain Jonathan L. Tippet said of Pop's last Instagram posts, which included a photo of him holding large stacks of cash, and a video of gift bags that revealed the address of the home he was staying in. "It also extends the pool of people that would have known where he was at and could have targeted him for a variety of reasons."
Shorty after Pop's death, TMZ reported that authorities believed it was a targeted hit based on accounts by those who saw surveillance footage from outside the Hollywood Hills home where he was gunned down. However, it seems conflicting evidence has made the motive difficult to determine.
"There were a couple of items that were taken, but some of the things you would think would be taken weren't even really looked for," Captain Tippet said. "So that's why we're not really saying that it was a robbery or that he was the intended target."
While one of the early rumors following Pop's passing was that gang members may have been behind his murder, Captain Tippet said there was no indication at this point that a rival gang from the East Coast had come to Los Angeles to target him, per the NYT.
Pop, born Bashar Jackson, was shot and killed on February 19. According to TMZ, two men wearing masks and hoodies broke into the Brooklyn native's Hollywood Hills rental home around 4:30 a.m. and opened fire — fatally wounding Smoke — before fleeing the scene. The up-and-coming artist was pronounced dead upon arriving at Cedars-Sinai Medical Center in West Hollywood.
Photo: Getty Images
Chat About Pop Smoke Murder Investigation: Officials Confused By Conflicting Evidence