Adam Levine Apologizes For 'Unprofessional' Behavior During Chile Concert
By Peyton Blakemore
February 29, 2020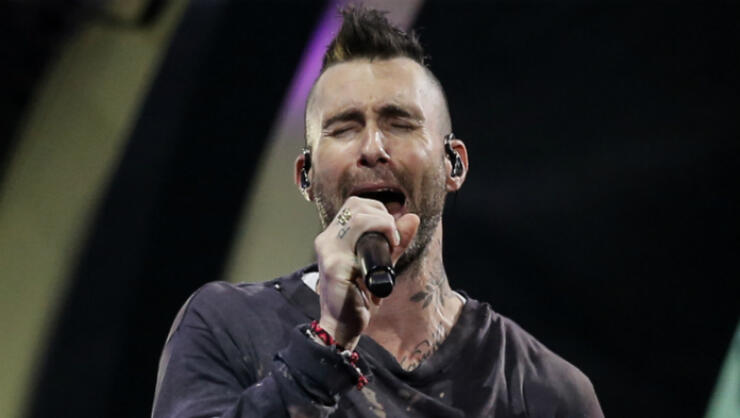 Adam Levine is apologizing for what he called "unprofessional" behavior at the Viña del Mar International Song Festival in Chile this week.
After being criticized by fans for Maroon 5's less than stellar performance — according to the BBC, many viewers were disappointed by Adam's perceived attitude toward the crowd — the 40-year-old singer took to Instagram Stories on Thursday night (February 27) to address the criticism head-on.
"To be totally frank, there were some things holding me back sonically last night, and I let them get to me," Adam admitted. "It impacted how I was behaving onstage, which is unprofessional and I apologize for that." He added, "I struggled a lot and sometimes it's really for me to mask the struggle. For that, I let you guys down and I apologize."
For the televised performance — Viña del Mar International Song Festival is one of Latin America's oldest and most prestigious music events — Maroon 5 arrived at least 15 minutes late on stage, which forced TV presenters María Luisa Godoy and Martín Cáracamo to "fill in for minutes that became eternal for those present," local outlet CHV News reported. Additionally, when the band began their performance and the crowd sang along to "She Will Be Loved," Adam quipped, "Well, if you want to do my job, go ahead," CHV News reported, per People
And if that wasn't cringey enough, Adam was also seen on camera complaining about the event backstage. "That was a TV show… that was not a concert," he was overheard saying.
However, as the Maroon 5 frontman said in his apology, "Last night wasn't our best and, for that, all I can say is that I'm really sorry."
Photo: Getty Images
Chat About Adam Levine Apologizes For 'Unprofessional' Behavior During Chile Concert