At Least 22 Dead After Tornado Rips Through Nashville and Central Tennessee
By R.J. Johnson - @rickerthewriter
March 3, 2020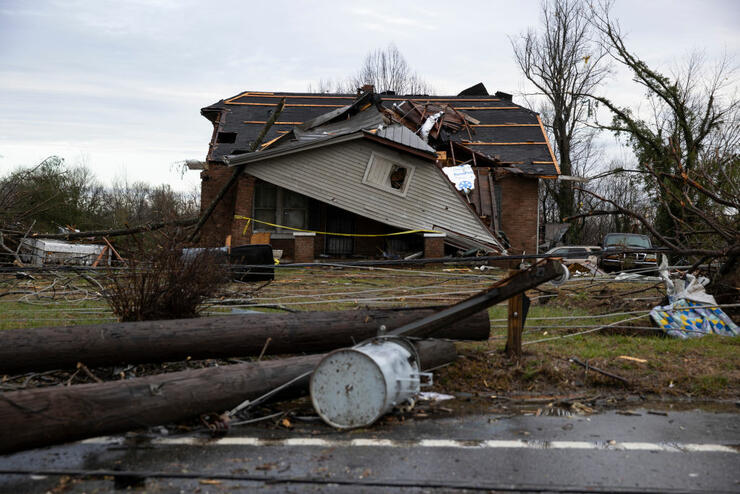 At least 22 people were killed and dozens more injured after at least one tornado and strong storms roared through parts of Nashville and central Tennessee early Tuesday morning, officials said.
Up to 50,000 homes and businesses were without power as the sun began peeking up over the horizon Tuesday. More than 45 buildings were reportedly damaged in the storm in Nashville alone, with more than 150 people taken to local hospitals.
The disaster marks the deadliest tornado since 23 people were killed in Lee County, Alabama, nearly one year ago on March 3, 201
Police in Nashville said the majority of damage was located in the downtown and east precincts in Nashville. Officers specializing in urban search and rescue have been requested to help rescue efforts in Germantown, East Nashville and Hermitage, Joseph Pleasant, a spokesman with the Nashville Office of Emergency Management said.
"The State of Tennessee has activated a strong coordinated response effort to last night's devastating storms. In the hours ahead, we will continue deploying search and rescue teams, opening shelters across the state, and sending emergency personnel to our communities hit hardest. " Tennessee Gov. Bill Lee wrote on Twitter. "We encourage all Tennesseans to join us in praying for the families across our state that are facing tragedy today. Thank you to our first responders for working around the clock to keep us safe on this difficult day.
"Maria and I send our prayers across Tennessee this morning as our state suffers from last night's storms. I am at @T_E_M_A this morning working closely with our emergency and local officials and coordinating resources to help our neighbors in need," Lee added.
At least nine deaths were reported in four counties, Davidson, Putnam, Benton and Wilson, officials said. Nashville Mayor John Cooper told CNN that at least one tragic case involved a tree falling on a car.
"We all worry about some people being left in some buildings that have been damaged and I know the first responders are working their way through that problem," Cooper said.
The violent storm came ahead of Tennessee residents voting in today's 'Super Tuesday' primary, which involves more than a dozen states across the country. Officials say that while some polling locations were reportedly damaged in the storm, they were working to ensure that all polling locations in the affected areas would be open for the required ten hours.
Mount Juliet and Lebanon appeared to have taken the brunt of the damage from the storm, with Mount Juliet police saying the town of about 30,000 suffered significant damage and had multiple injuries.
"We have requested mutual aid from allied agencies. We continue to search for injured. Stay home if you can. Watch for downed power lines," the police department tweeted.
Schools throughout the Nashville area have been closed for the day because of the damage, officials said. All non-essential Nashville government services were also suspended.
Photo: Getty Images
Chat About At Least 22 Dead After Tornado Rips Through Nashville and Central Tennessee