Matty Healy Debunks Drive Like I Do Resurrection Rumors
By Katrina Nattress
March 4, 2020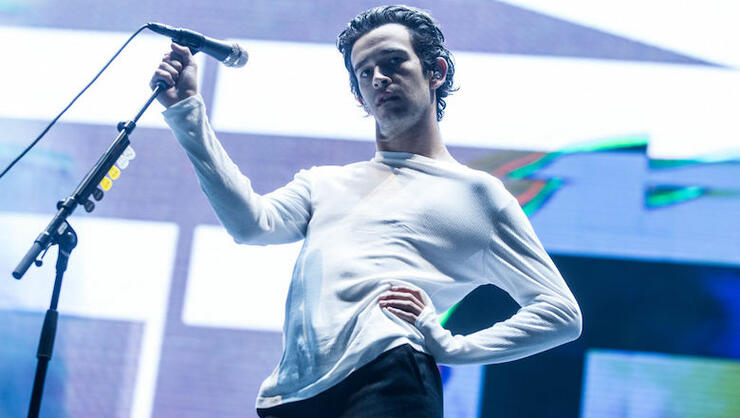 On Tuesday (March 3), The 1975 fans lost their collective minds when a Drive Like I Do website popped up, seemingly teasing a resurrection of the band's side project. And then Matty Healy crushed everyone's dreams in a single Instagram comment.
"I didn't make that website although I am slightly annoyed the domain name is now gone lol. I dunno who made it probs the same person who made up them quotes about coffee etc."
The quote the singer's referring to is "Life's too short to drink crappy coffee and cry over boys who don't care," a phrase wrongly attributed to him.
Drive Like I Do was The 1975's moniker before becoming the band it is today. In 2017, Healy confirmed DLID's debut album would arrive "in the coming few years," and stressed it and The 1975 are "separate entities;" however, it sure seems like the side project and upcoming batch of music are intertwined.
In fact, he described one of the band's newer tracks, "Me & You Together Song," as "a Drive Like I Do song (kind of)," confessing that the band's "current vibe is very DLID."
The 1975's fourth album Notes on a Conditional Form is slated to come out this Spring, after the band postponed its February 21 and new April 24 release dates. 
"I'll be honest with you lot, Liverpool, I'll tell you a secret, it's gonna be a couple of weeks late, because I keep writing stuff," Healy said during a recent show in Liverpool."
"I'm never gonna put out a record I'm not happy with," he added. "I've just finished it. So it will come out as soon as it's physically made."
Photo: Getty Images
Chat About Matty Healy Debunks Drive Like I Do Resurrection Rumors