Ruston Kelly, Kacey Musgraves Surprise Fans With 'Just For The Record' Duet
By Blake Taylor
March 9, 2020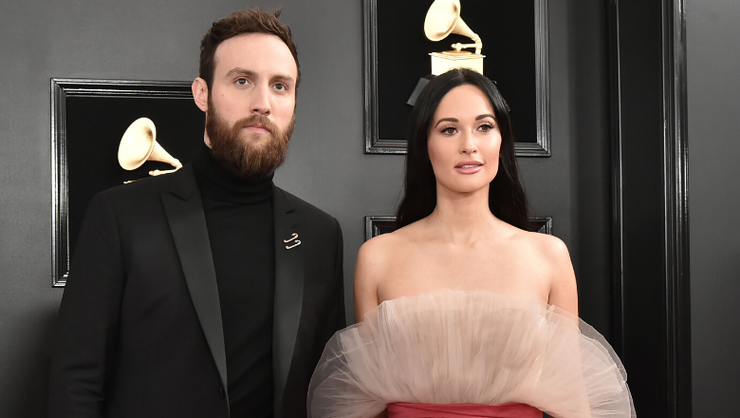 Kacey Musgraves surprised fans at Ruston Kelly's sold-out show at Nashville's Ryman Auditorium on Friday night (March 6). The couple performed an acoustic rendition of "Just For The Record."
The song, co-written by Kelly alongside Jarrad Kritzstein and Lucie Silvas, was one of the more deep-cut tracks from his 2018 album, Dying Star. The emotional record ended up leading Kelly to his official music genre, "Dirt Emo."
In 2019, Kelly released an EP called Dirt Emo Vol. 1, which included stripped down covers of Dashboard Confessional's "Screaming Infidelities" and Taylor Swift's "All Too Well."
Kelly and Musgraves have only performed "Just For The Record" several times together. The most recent performance was in March 2019 at a show in Birmingham, Alabama. Musgraves originally provided background vocals on the studio version of the track on Dying Star.
"This woman changed my life," Kelly said to the crowd as he and Musgraves finished the duet.
Watch the full performance of "Just For The Record" in the clip below.
Musgraves and Kelly tied the knot in October 2017. The couple met at a songwriters showcase at the Bluebird Cafe in Nashville, Tennessee.
"His songs made me really emotional. I thought, 'This guy's really clever, whoever he is,'" she previously told Glamour when speaking about meeting Kelly. The two started talking and writing songs together.
"And then it was 'That's all she wrote.' Pun intended. Everything was right," Musgraves said. "I didn't have to shift any part of my personality to make it fit together, which isn't really something I've had before."
Musgraves continued on to call the time a "big opening of heart" for her, ultimately leading to the creation of her album, Golden Hour. "I started to see the world in a more fond, pretty light," she said. "After meeting this person who really allows me to just be myself, not have to walk on eggshells for any reason, songs started pouring out."
She continued, "If I wouldn't have blocked off time to get off the road and try to create a new album and have the time to explore creatively, it makes me wonder if I would have met him. It was perfect timing."
Photo: Getty Images