Doja Cat Responds To Accusations She Lightens Her Skin
By Peyton Blakemore
March 11, 2020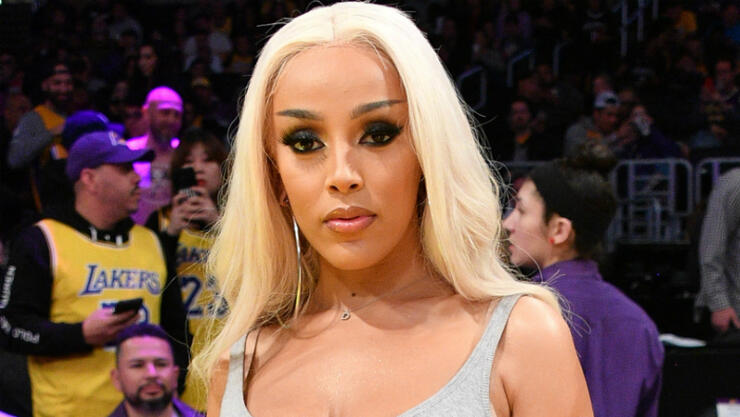 Doja Cat wants the world to know, she does not bleach her skin.
After being featured on Youtube's "#WCE" playlist, some people claimed the "Say So" rapper looked noticeably lighter in the photo used by Youtube and voiced their opinions in the comments section of the post. The opinions then turned to accusations as multiple Youtube users began to accuse Doja of bleaching her skin.
The 24-year-old reacted to the baseless claims on her Instagram Story Tuesday (March 10). "Hey, so if you're stupid as f**k you probably left a comment under this picture talking about this," she said in a video while scrolling through the comments about her skin tone. "Hey, how about I'm half white, not entirely black. My skin gets very light when I don't tan."
Doja added, "I was staying indoors a lot before that shoot. New f**king subject! Dumba**es."
Before Doja set the Internet straight about her skin tone, she was making headlines for her opinion on the coronavirus. "B*tch, I'm not scared of a coronavirus or the motherf**king beer version of that sh*t," she said of the pandemic over the weekend, per Uproxx. "I'm gonna get corona and then I'm gonna get a Corona, 'cause I don't give a f**k about corona, b*tch. It's a flu! I would literally… I'm not scared.
"Y'all are pu**y, period," Doja continued. "You just take some Mucinex and drink water and tea and sleep—that's all you gotta do. Y'all are so scared of some damn corona. Y'all are so scared of corona that I need a Corona."
To keep up to date on the latest news about the coronavirus and to understand what you need to stay safe and healthy, check out the Coronavirus: Fact vs Fiction podcast from CNN Chief Medical Correspondent Dr. Sanjay Gupta.
Photo: Getty Images
Chat About Doja Cat Responds To Accusations She Lightens Her Skin