Blake Shelton Postpones Tour Amid Coronavirus Pandemic
By Blake Taylor
March 13, 2020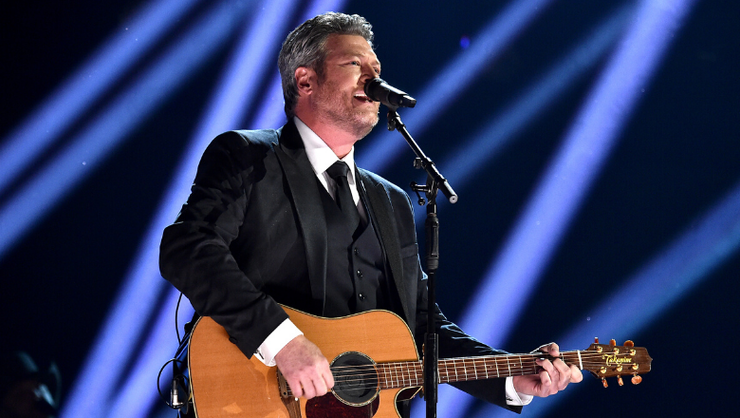 Blake Shelton is yet another country music artist who has decided to push back his tour due to the coronavirus pandemic. The country star announced the final dates of his "Friends and Heroes Tour" will be rescheduled for 2021.
"Omaha, I'm here in your city with my friends and heroes and am ready to play a show for you, but for all the right reasons — chiefly everyone's safety and wellbeing — we have to reschedule tonight and the rest of the tour," Shelton said in the statement on social media. "Please take care of yourself and your loved ones. You can bet we'll see you back here soon!"
Shelton's "Friends and Heroes Tour" kicked off on February 13 in Portland, Oregon. Tour stops that will be rescheduled include Omaha, Denver, Rosemont, Milwaukee and Detroit.
Shelton is one of many artist who've decided to reschedule their tours due to health concerns. Earlier this week, Zac Brown Band was the first country group to cancel shows in the U.S. due to the spread of the virus. More recently, Reba McEntire, Dan + Shay and more altered their schedules as well.
The World Health Organization (WHO) officially declared coronavirus a pandemic on Wednesday (March 11). So far, health officials with the U.S. Centers for Disease Control and Prevention have confirmed more than 1,200 cases of the coronavirus in the United States and 36 deaths. Globally, the virus has infected more than 132,500 people and killed more than 4,900 according to the World Health Organization.
To keep up to date on the latest news about the coronavirus and to understand what you need to stay safe and healthy, check out the Coronavirus: Fact vs Fiction podcast from CNN Chief Medical Correspondent Dr. Sanjay Gupta.
Chat About Blake Shelton Postpones Tour Amid Coronavirus Pandemic