Maren Morris Especially Loves Collaborating With Artists From Other Genres
By Blake Taylor
March 13, 2020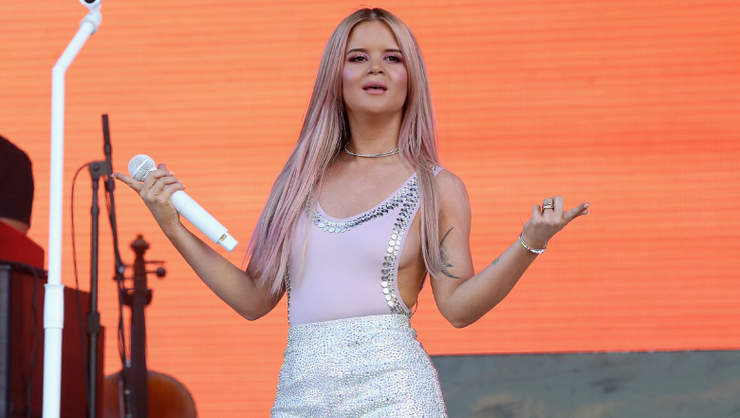 While country music is most definitely Maren Morris' home-base, the singer especially enjoy working with artists from other genres. Morris, who's previously worked with with artists like Zedd and Grey, Hozier, Niall Horan and more is always open to more collaborations outside of country music.
"I love collaborating with other artists, especially when it's outside of my genre, because it teaches me so much, about someone else's view on something," Morris said in a recent interview. "Their view of the business; it's always been one of my favorite things, like Ray Charles and Willie Nelson. You'd see these really kind of unlikely collaborations and duets, and they're just magical. And then, obviously I love collaborations because I'm in a band, The Highwomen, which is one giant collaboration."
She continues, "I love being a solo artist, and that voice, but I love sharing the stage with someone as well. It's some of my favorite moments of my career have been honoring or singing with someone that I really respect."
Throughout the last few years, Morris has had the opportunity to sing with some of her biggest musical inspirations, including her "number one," Dolly Parton. "I've gotten really lucky, performing with some of my heroes," she adds. "Dolly will always be my number one though."
Morris is excited about the artists she's already shared the stage with, but there is one she regrets not being able to sing with before they passed away.
"I don't know if I'd emotionally have been able to get through it, but I would have loved to have sung with Aretha," Morris reveals. "I'm sure everyone would. But that would be an other-worldly experience."
Morris and her husband, Ryan Hurd, will welcome their first child the end of this month on March 30. After spending some time at home with their baby boy, the two will hit the road for Morris' headlining "RSVP: The Tour."
Hurd, who's opening for his wife jokes, "I'm there to pretty much hold the baby from 9:30 to 11. That's basically why I got booked. I was asked and told that we will be touring together this year."
The tour will kick off on June 5 in Boston, Massachusetts, with shows running through October 17 in Los Angeles, California. In addition to Hurd, James Arthur and Caitlyn Smith will also serves as opening acts.
A complete list of "RSVP: The Tour" cities and dates can be seen here. Tickets for the tour are on sale now. Additional details are available at MarenMorris.com.
Photo: Getty Images
Chat About Maren Morris Especially Loves Collaborating With Artists From Other Genres