Florida Georgia Line's Tyler Hubbard Reveals Gender Of Third Child
By Blake Taylor
March 17, 2020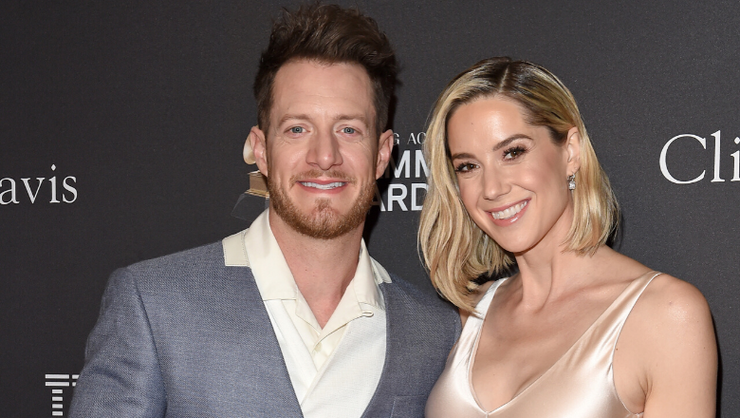 Florida Georgia Line's Tyler Hubbard and his wife Hayley are going to have a baby boy! The couple revealed the news while on a trip to Africa with their two children, Olivia and Luca, along with bandmate, Brian Kelley, and his wife Brittney.
According to People, the family had a small ceremony to announce the baby's sex while at Sheldrick Wildlife Trust in Kenya on March 4. To help with the reveal, Brittney found out the baby's sex ahead of the trip and kept it a secret the whole time. One arriving to the ceremony, Brittney gave a blue scarf to an elephant keeper for the animal to wear as it walked out by the family.
"Africa has become our second home, and we really wanted to do the reveal with the elephants at the Sheldrick Wildlife Trust," Hayley explained. "We're in awe of the inspiring work they do to rescue, protect and preserve these magical creatures. The elephants really speak to us, and this is a cause that we are very passionate about."
The couple first announced they were expecting their third child on March 5 through photos of their kids Olivia and Luca reacting to the news.
"Little brother, mommy and daddy are having another!'" Tyler captioned his post. "We were as surprised as Liv was and as speechless as Luca."
Hayley added on her post, "When Luca finds out he's not the baby anymore…Surprise, here comes Hubbard baby #3!!"
The news arrived just months after the pair welcomed baby Luca in August. There's no doubt the couple will have their hands full with three children under the age of three, however they are still excited as ever for the journey.
"We were pretty surprised to find out we're expecting, but having three children is something Tyler and I have always dreamed of," Hayley says. "God's timing is perfect!"