Luke Combs Debuts Hopeful New Song 'What Do You Do When It Rains?'
By Blake Taylor
March 18, 2020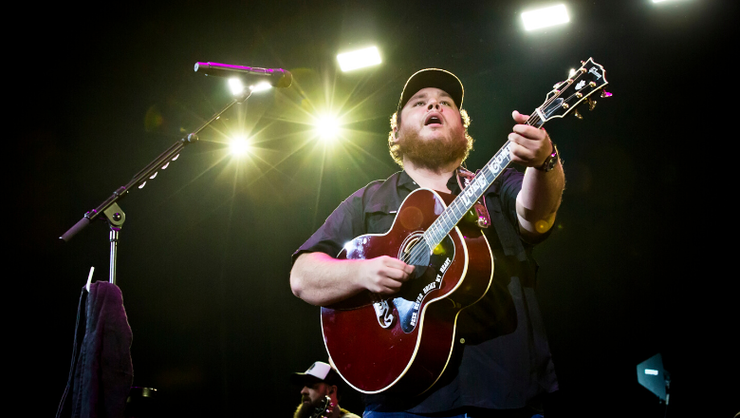 Luke Combs turned to Instagram Live on Tuesday night (March 17) to kick off a series of live-streamed shows, as the country practices social distancing amid the coronavirus pandemic.
"I'll do one every week we're quarantined," Combs said at the end of his four-song concert.
The country star kicked off his set with a cover of Tracy Chapman's 1988 hit, "Fast Car." Additionally, Combs debuted a brand-new song he wrote while on a writing retreat in Florida titled "What Do You Do When It Rains?"
"I spent some time before this whole crazy quarantine thing writing songs for a couple of weeks at the beach," Combs shared. "I wrote this with my buddies James McNair and Mr. Reid Isbell."
"So what do you do when it's raining? What do you do when the clouds come rollin' in," Combs sings from his Miller Lite barstool dressed in a camo vest.
Before concluding his set, Combs performed hit hit song, "When It Rains It Pours" and his breakthrough debut single, "Hurricane." The North Carolina native also took a moment to give a shout-out to the World Health Organization, encouraging his fans to monitor their website and social media accounts.
"The World Health Organization is doing a great job of keeping everybody up to date," he said. "Check their website, who.int, or on their socials @WHO."
At this time, health officials with the U.S. Centers for Disease Control and Prevention have confirmed more than 7,000 cases of the coronavirus in the United States and 97 deaths. Globally, the virus has infected more than 193,400 people and killed more than 7,800 according to the World Health Organization.
To keep up to date on the latest news about the coronavirus and to understand what you need to stay safe and healthy, check out the Coronavirus: Fact vs Fiction podcast from CNN Chief Medical Correspondent Dr. Sanjay Gupta.
Chat About Luke Combs Debuts Hopeful New Song 'What Do You Do When It Rains?'