Andrea & Matteo Bocelli Sing Ed Sheeran's 'Perfect' During IG Live
By Taylor Fields
March 19, 2020
It's no secret that Italy has been hit hard by the Coronavirus (COVID-19), but Italians are coming together and trying to spread a little bit if happiness through music. Many have been taking to their balconies to sing and play instruments, the latest being the extremely talented and legendary Andrea Bocelli and his son Matteo Bocelli.
As seen during an Instagram Live put together by Italian singer/rapper Fedez and his wife, fashion influencer/designer Chiara Ferragni, Andrea and Matteo performed music from their home, which was then not only broadcast on social media, but to Italians in Milan as Fedez pointed a speaker through the window of his home.
In 2018, Andrea and Ed Sheeran collaborated on a gorgeous version of the latter's hit song "Perfect" called "Perfect Symphony." During the IG Live, Andrea explained that while he didn't have Sheeran there to perform with him, he had his son Matteo, and the two performed the song together. As Matteo sang Ed's parts, his father played the flute, and then sang his own parts in Italian.
As Fedez hosted the short performance, he also showed everyone watching through Instagram his neighbors who had gathered on their balconies nearby to hear Bocelli sing. Next, Andrea sat down at his piano and gave an emotional performance of "Ave Maria." As people were listening on their balconies, they waived their Italian flags during the moving moment.
After another song performed by Andrea, everyone stood in place for a moment of silence, presumably for all those who have been affected and even lost their lives from COVID-19.
We're not crying, you are! (But, actually, we're crying too)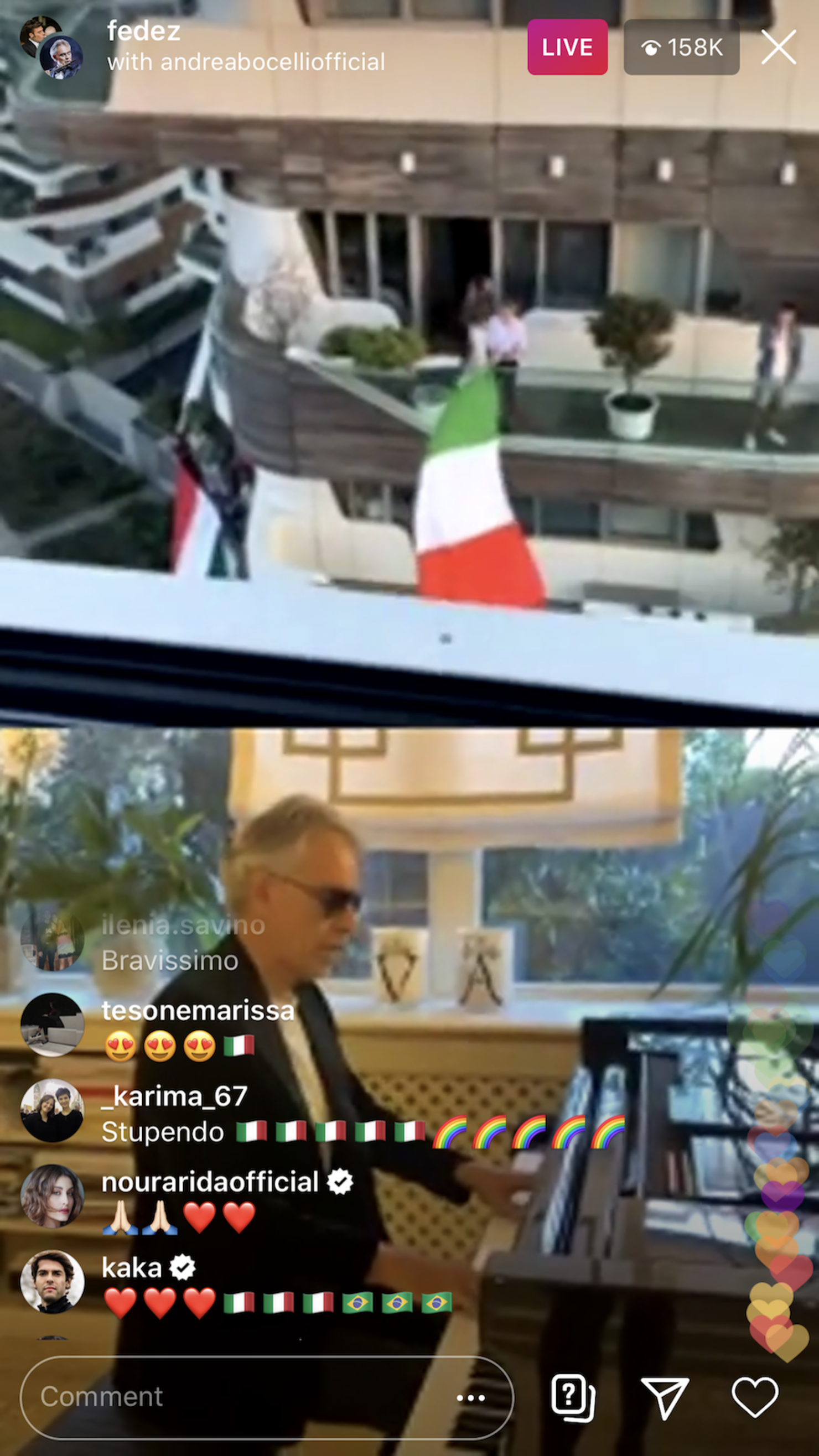 Since the rapid spread of the virus in Italy, Fedez and Chiara started a GoFundMe to help raise money to support Italian communities and hospitals who have been struggling with treating the influx of Coronavirus patients — and in a short time they've managed to raise over 4 million euros.
In a statement posted to the GoFundMe page, they shared, "In this really difficult phase for our country we can also do something to support our communities. Doctors and scientists are doing a very important job and we would like to help support them. For this reason, we thought of helping the intensive care unit at the San Raffaele Hospital in Milan. At this moment the equipment necessary to triple the intensive and subintensive care beds are fans, non invasive ventilation devices, hemodynamic monitoring, monitors. Even a small donation can make a difference." They added, "We are in close contact with the doctors of the San Raffaele hospital in Milan. The funds raised will be directly donated to the hospital to strengthen intensive care."