Celebrities Helping to Raise Funds to Fight COVID-19 via Digital Avatars
By Taylor Fields
March 20, 2020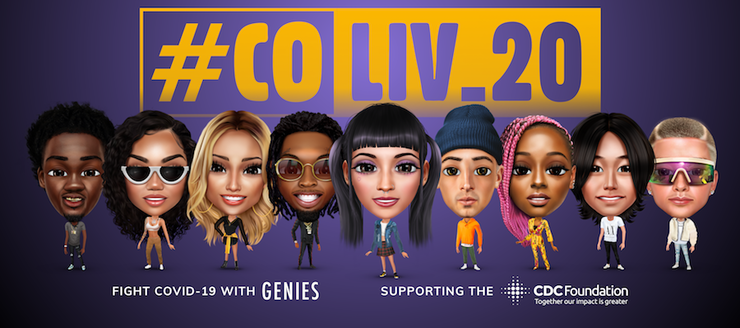 Some of your favorite stars are coming together to amplify the CDC's Emergency Response campaign to help raise funds to fight Coronavirus (COVID-19).
While everyone is in the thick of social distancing and staying home to try and slow the spread of the virus, celebs are especially active on social media — and through their digital avatars, in partnership with Genies (the world's largest avatar technology company), and the CDC Foundation.
This campaign will help raise money for the foundation's Emergency Response Fund. You can donate via the Genies official website or you can create your own digital avatar to share along with your favorite stars on social media using the hashtag #COLIV_20. Users can also choose to download their own avatar in the Genies app and utilize any of the CDC Foundation actions on the keyboard to help share the news of the campaign.
Celebrities who are involved in the campaign include Billy Ray Cyrus, production duo Lost Kings, Farruko, Louis The Child, NFL star Arik Armstead, and iHeartRadio's own Elvis Duran and Maxwell, among others.
In a post on Instagram, Billy Ray Cyrus said, "'19 brought COVID-19 into our world and has taken it by storm, but '20 marks the year we unite to take it back. Even though we are socially distanced in the physical world, we can live together in the digital world. #COLIV_20 begins now. Join by donating to the CDC Foundation."
Elvis Duran explained, "#COVID19 came into our world, now we must unite to take it back. Even though we are socially distanced in the physical world, we can live together here in the digital one. #COLIV_20 begins now!"
Louis the Child shared, "It's on us to fight this virus. Join us in donating to the CDC Foundation Emergency Response Fund and please stay informed and safe."
Funds raised in the campaign will be used to:
Help communities prevent, detect and respond to COVID-19
Deploy emergency staffing with the skills required to meet the needs on the front lines at the state and local level
Fund and deliver critical home essentials, such as food and medical needs to quarantined and isolated individuals
Develop education and awareness campaigns to advance prevention and reduce stigma
Build capacity and infrastructure for global response efforts and other immediate needs as they evolve
Donate and/or create your own Genie avatar now.
Chat About Celebrities Helping to Raise Funds to Fight COVID-19 via Digital Avatars