Mariah Carey Responds To Kelly Clarkson's Bathroom Rendition Of 'Vanishing'
By Hayden Brooks
March 20, 2020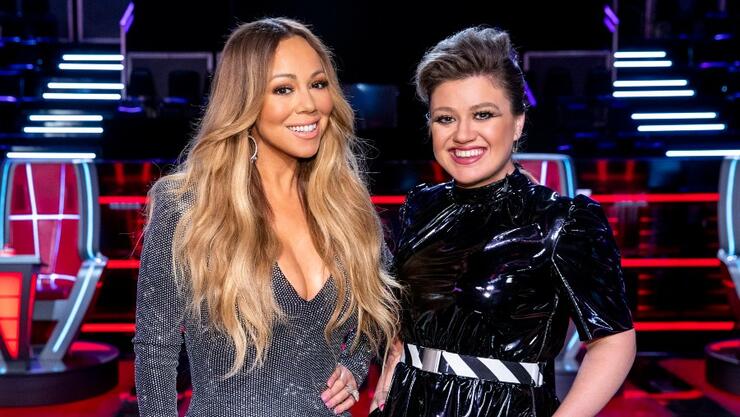 Kelly Clarkson knows how to sing hits that span all genres, but the American Idol OG recently took her skills to her bathroom for one of Mariah Carey's songs, only to receive her glorious stamp of approval.
On Thursday (March 19), Clarkson, 37, took to Instagram to share footage of her rendition of "Vanishing" off Carey's 1990 debut album, altering the arrangement and adding her own flair to the cut. In the clip, Clarkson gives viewers the backstory behind the song choice, referencing a recent episode of The Voice. "This is for Mariah because I know she saw that Voice episode," she says in the clip. "I thought it would be cool because people keep asking 'Hey will you do some videos?' And fans keep saying 'Where are you?' And I'm in a bathroom."
Clarkson, who paused production on The Kelly Clarkson Show amid the coronavirus pandemic, also admitted that she recorded the number while getting some social isolation from her two children. "Hiding in Montana. That time ur quarantined, ur kids r sleeping so ur stuck in a bathroom & ur glam squad's nowhere in sight," she captioned the post.
Carey had a sweet response to the cover, replying, "Beautiful rendition!!! I know you're usually working 30 hours a day 8 days a week so this must be quite an adjustment for you (as it is for us all!). Keep the videos coming!! Do whenever you call next."
To keep up to date on the latest news about the coronavirus and to understand what you need to stay safe and healthy, check out the Coronavirus: Fact vs Fiction podcast from CNN Chief Medical Correspondent Dr. Sanjay Gupta.