Miley Cyrus Jokes About Dad Billy Ray Cyrus Not Understanding iPhones
By @Coldestdecember
March 21, 2020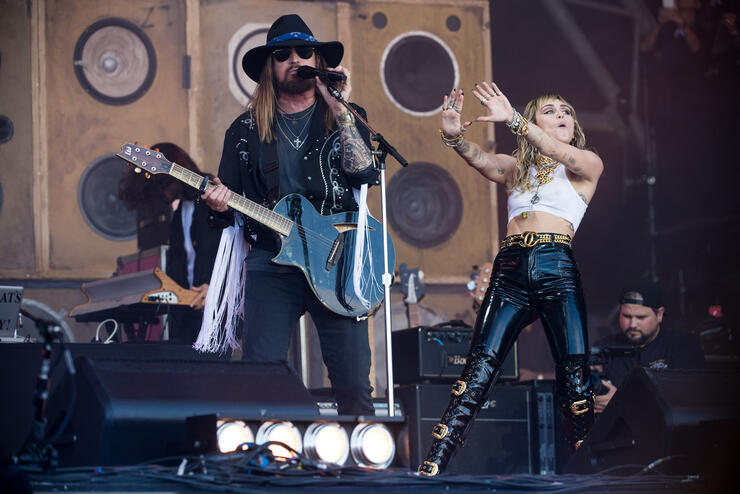 Country-pop music star, Miley Cyrus, has found a fun way to spend her time of self-isolation. The "Wrecking Ball" singer has begun hosting a digital talk show everyday intended to lighten the mood of the times and remain positive. During a live chat, Miley admitted a pretty hilarious detail about her father, Billy Ray Cyrus. Apparently, dad does not know how to use an iPhone.
"My dad is crazy. He got two Blackberries because he says it equals one iPhone," Miley said on her "BRIGHT MINDED: Live With Miley series. "That is not true — he's still on the Blackberry [trend]!"
While her father is "stuck in Nashville," Miley is tucked away at home in California. Therefore, when the two wish to Facetime, Billy Ray has to go over to Miley's Grandmother's house.
"It's really sad because he has to go to my grandma's house to FaceTime," Miley told viewers. "Because my grandma knows how to FaceTime and he doesn't."
However, Billy Ray, nicknamed by his family as "The King of Blackberries," has finally purchased his first iPhone. Maybe he won't need to travel so far to make a Facetime anymore?
"BRIGHT MINDED: Live With Miley" airs everyday on her Instagram this week and next at 11:30 a.m. PT/2:30 p.m. ET.. Today her guest will be longtime friend, Hailey Bieber. The two plan to entertain viewers with at-home makeup tutorials.
Chat About Miley Cyrus Jokes About Dad Billy Ray Cyrus Not Understanding iPhones