'Tiger King' Joe Exotic Files $94M Lawsuit, Requests Pardon From Trump
By R.J. Johnson - @rickerthewriter
March 27, 2020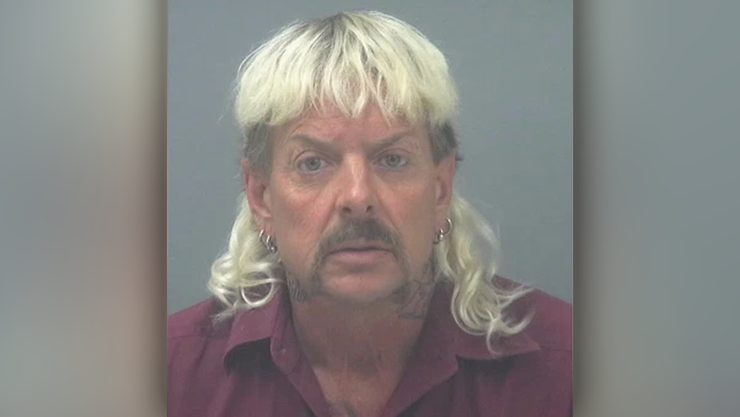 The 'Tiger King' wants out of his cage.
If you're like most of America and stuck at home amid the coronavirus outbreak, you may have spent some time watching the new hit documentary on Netflix, 'Tiger King: Murder, Mayhem and Madness" starring Joseph Maldonado-Passage (better known as Joe Exotic).
Maldonado-Passage has filed a jailhouse lawsuit against the federal government, his former business partner Jeff Low, and several other former colleagues for a combined total of $94 million. According to a post on his Facebook page, the 'Tiger King' also called for a presidential pardon.
"This lawsuit has been filed in the name of Justice, The Trump Administration must be made aware of the Overreach, perjury, abuse of power and the failure to uphold the Oath of their position which is truth and Justice for all," the native Oklahoman wrote.
The former zookeeper and sometime country music singer claims he is owed $73,840,000 by the U.S. Department of Interior, U.S. Fish and Wildlife Service and other government agents for the loss of his personal property and other expenses associated with the research and care for some 200 tigers and cross-breeds. He also says he's owed another $15 million for false arrest, false imprisonment, selective enforcement as well as for the death of his mother, Shirley.
In the lawsuit, Maldonado-Passage alleges that the government targeted him specifically by adding "generic animal" - a tiger - to the endangered species list. That allowed the government to file charges against him to promote an alleged "animal rights agenda." He states that he was also targeted by the government because he is "an openly gay male with the largest collection of generic tigers and crossbreeds."
Maldonado-Passage was convicted in 2019 on 21 counts, including paying a hitman $3,000 to kill a rival zookeeper and animal rights activist, Carole Baskin, who runs Big Cat Rescue in Tampa, Florida. The hit was unsuccessful and he was convicted for the attempted murder plot.
A jury also found him guilty for killing at least 5 tigers to make room for more bigger cats at his exotic animal park. Maldonado-Passage refutes those charges, saying he had "humanely euthanized" the animals to end their suffering related to "14 years of painful walking on declawed paws to the point that they were crippled."
The former 'Tiger King' is currently serving out his sentence at the Grandy County Jail in Oklahoma.
Photo: Santa Rosa County Jail