Chrissy Teigen Officiates Wedding For Daughter Luna's Stuffed Animals
By Hayden Brooks
March 30, 2020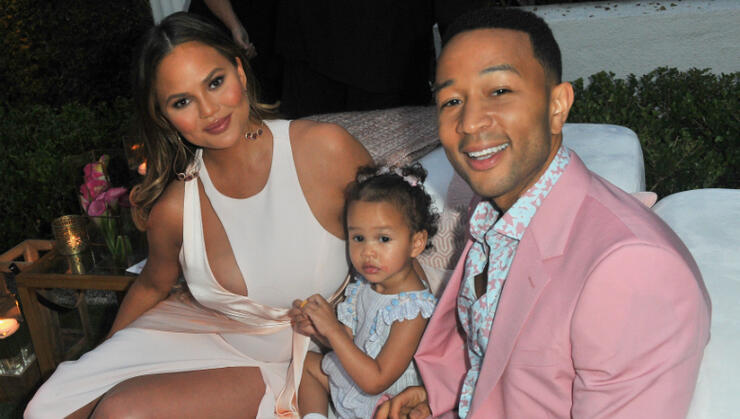 John Legend and Chrissy Teigen are making the most of their time under quarantine, as seen by the former's recent Instagram Story, where the couple officiated a wedding for their daughter's animals.
On Sunday (March 29), the Bring the Funny judge took to the social media platform to share footage of the ceremony for her daughter, Luna, 3, and her two favorite stuffed animals. "It's a beautiful day out. It's a good day for a wedding. I don't know if many of you have been to a wedding between stuffed animals, but I have found that they are everlasting," she says in the clip at the altar of the outdoor wedding.
"Thank you for gathering here today on this very special day," Chrissy continued. "The sun is high. It's a beautiful day, well-deserved in what has become 26 weeks of an incredible relationship. … It was unexpected at first, as there were many different animals in the house. But who knew that Chloe and Nosh would get along so well? They loved each other since the first second they laid eyes on each other and they never spent a night apart."
While Legend was recruited to sing the pair's "favorite song, as requested by them," which happened to be Selena Gomez's "Hands To Myself," the pair's son, Miles, 1, attempted to grab his sister's toys at one point, but she pulled them back, joined her parents for an "honored tradition" of sand-joining and, of course, a kiss.
To keep up to date on the latest news about the coronavirus and to understand what you need to stay safe and healthy, check out the Coronavirus: Fact vs Fiction podcast from CNN Chief Medical Correspondent Dr. Sanjay Gupta.
Chat About Chrissy Teigen Officiates Wedding For Daughter Luna's Stuffed Animals