Churches Across The Country Host Drive-In Mass For Worshippers
By Bill Galluccio
March 30, 2020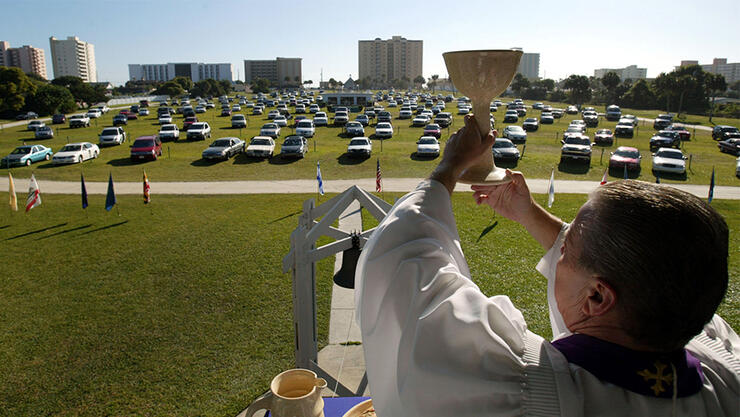 As cities and states across the nation placed restrictions on large gatherings, churches were forced to adapt to the new rules. Unable to hold services in their buildings, many churches moved their weekly masses online, allowing anybody to watch from their homes.
Some churches decided to take it one step further and started hosting drive-in services, allowing members of the congregation to celebrate together, while still maintaining social distance rules designed to slow the spread of COVID-19.
In the town of Gu-Win, Alabama, the Faith Fellowship Church of Winfield teamed up with the Blue Moon Drive-In Theater to host Sunday mass.
"People want to connect to something stable," Harry Saylor, who is a senior pastor at the church, told NBC News. "From our wealth to our health, everything is shaky right now."
Members of the church are glad to have a place to go worship every week, especially during these trying times.
"Last week, the seriousness of it all took a toll on me," Morgan Cochran, who works as a nurse, said. "I really needed church."
In Texas, the Kingsland Baptist Church doesn't have the luxury of having a drive-in theater nearby, so they are creating their own. For Easter Sunday, the church is renting large movie screens and radio transmitters so people can watch the service together while listening from the safety of their own cars.
"They are looking for somebody to tell them it's OK, and nobody can really say that yet," said Todd Pendergrass, the church's executive pastor of administration. "But we can express that the person we trust in Christ is unchanging."
To keep up to date on the latest news about the coronavirus and to understand what you need to stay safe and healthy, check out the Coronavirus: Fact vs. Fiction podcast from CNN Chief Medical Correspondent Dr. Sanjay Gupta.