The 1975 Announces New Song, Updated Album Release Date & More
By Lindsey Smith
March 31, 2020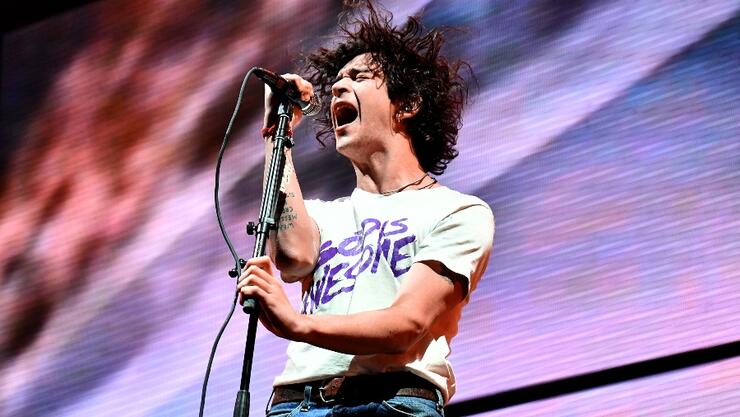 The 1975 made a couple announcements on social media Monday (March 30).
Ahead of the release of Notes On A Conditional Form, the band revealed the album's simplistic artwork. 
The record's cover is a cream color with the album name across the top. As for the back, there's a stencil-esque photo of the band and the 22-song tracklist. The 1975 has already released a handful of songs off the new album including "The Birthday Party,""Me & You Together Song,""Frail State of Mind," and"People."
As well as dropping the song names and the artwork, it was revealed that Notes has been pushed back a second time.
Originally, the album was slated to be released in February before being moved to April. Now, the album will be released on May 22. This took many fans by surprise in the comments section as it was the first time we've heard of the second change. 
The 1975 will also be releasing a new song on Friday (April 3) titled "Jesus Christ 2005 God Bless America." On Saturday, the band invited fans to send in videos to be part of the music video and we can't wait to check it out!
The 1975, Notes on a Conditional Form Tracklist:
1. "The 1975"
2. "People"
3. "The End (Music for Cars)"
4. "Frail State of Mind"
5. "Streaming"
6. "The Birthday Party"
7. "Yeah I Know"
8. "Then Because She Goes"
9. "Jesus Christ 2005 God Bless America"
10. "Roadkill"
11. "Me & You Together Song"
12. "I Think There's Something You Should Know"
13. "Nothing Revealed / Everything Denied"
14. "Tonight (I Wish I Was Your Boy)"
15. "Shiny Collarbone"
16. "If You're Too Shy (Let Me Know)"
17. "Playing On My Mind"
18. "Having No Head"
19. "What Should I Say"
20. "Bagsy Not in Net"
21." Don't Worry"
22. "Guys"
Photo: Getty Images
Chat About The 1975 Announces New Song, Updated Album Release Date & More