Billie Eilish and Finneas Perform From Home While Petting Puppies
By Katrina Nattress
April 1, 2020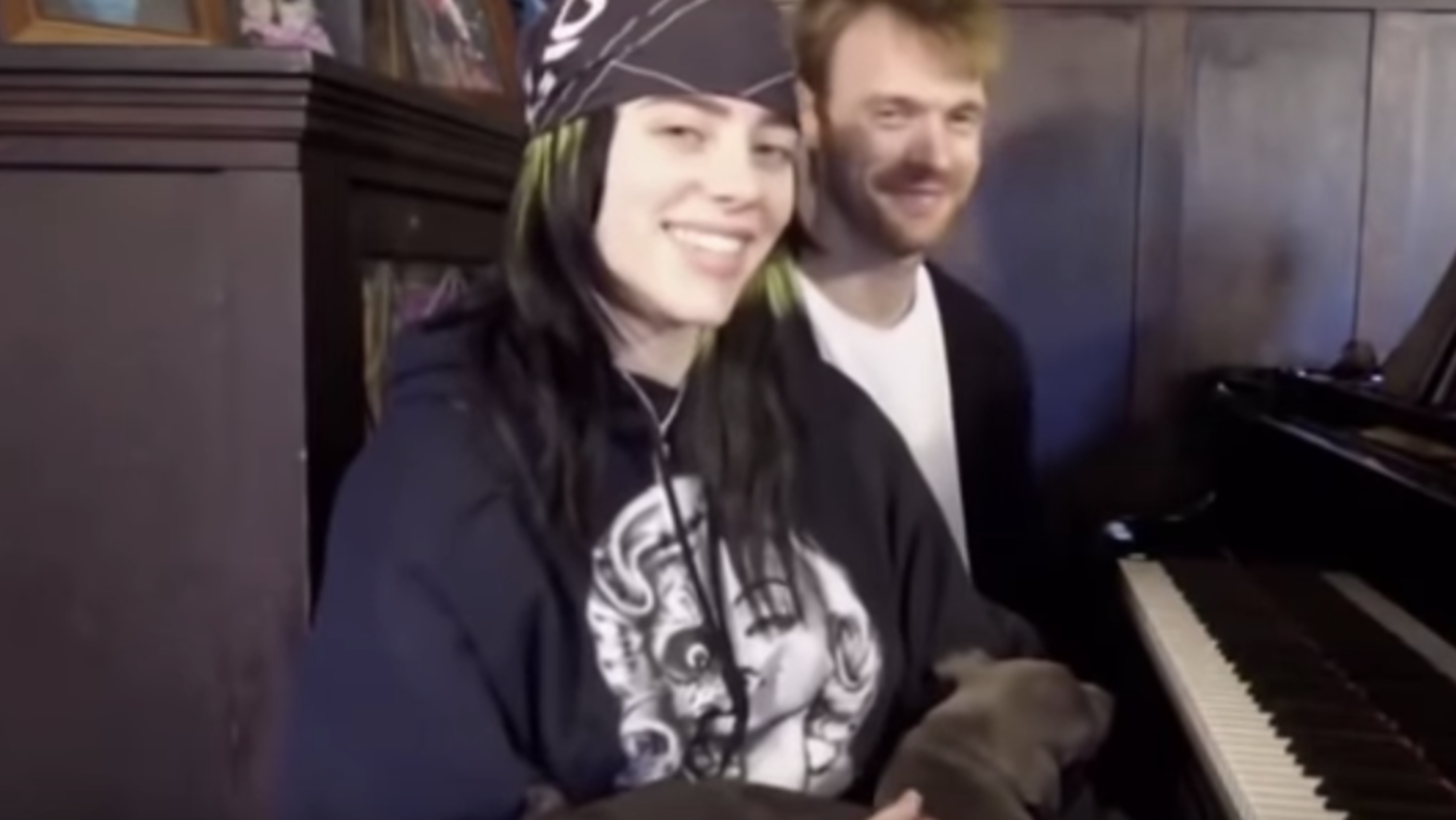 Though James Corden may not be taping his talk show since the coronavirus pandemic swept across the country, he aired a special this week called Homefest. The hourlong broadcast featured performances by BTS, Dua Lipa, and Billie Eilish accompanied by her brother FINNEAS and two adorable puppies. The siblings played a haunting rendition of "Everything I Wanted" while sitting at their home grand piano.
"Dude, life is weird, weird right now for everybody," Eilished admitted before the performance. "It's a weird time."
"Sometime in the next few weeks I'll feel the urge to write about all this," FINNEAS added. "At the moment I'm listening to a lot of meditation music, taking baths."
Corden kicked off the special with an optimistic monologue about the current state of the word. "In the most unique way, this virus has brought us all together. It's united us in something," he said. "This virus has shown that we are all equal. We are all simply human. This virus doesn't discriminate in any way. It has reminded us how our behavior can affect other people; it's reminded us that we need to look out for our neighbors; it's reminded me of the importance of my friends and my family, and how much I need them. It's reminded me, if I'm honest, to live life with more urgency. There are so many small thing that I had started to take for granted. And it's reminded me that when this is all over and said and done, we all need to make the most of every single day. We may be kept apart right now, but that hasn't stopped us from joining together." He also encouraged viewers who are able to donate to the CDC Foundation and Feed The Children.
Watch Eilish and FINNEAS perform "Everything I Wanted" and pet puppies below.
On Sunday (March 29), the siblings were two of many artists to partake in the iHeartRadio Living Room Concert For America, where they played an acoustic rendition of "Bad Guy" from their Los Angeles home.
To keep up to date on the latest news about the coronavirus and to understand what you need to stay safe and healthy, check out the Coronavirus: Fact vs Fiction podcast from CNN Chief Medical Correspondent Dr. Sanjay Gupta.