Ellen DeGeneres On Portia de Rossi's Cooking: She's Good At Slicing Fingers
By Hayden Brooks
April 8, 2020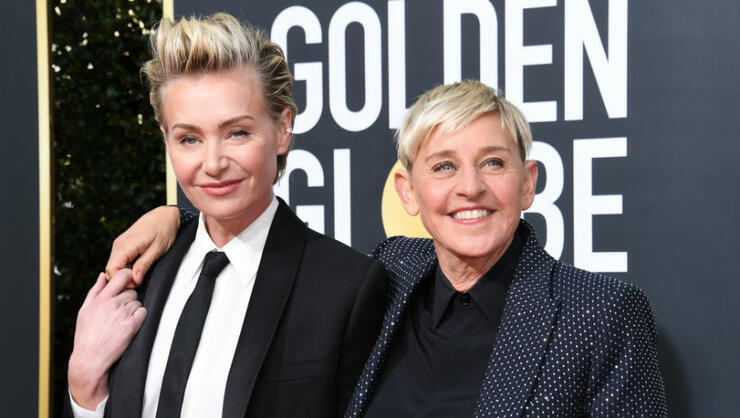 As we venture on another day at home amid the coronavirus quarantine, Ellen DeGeneres has revealed that her wife Portia de Rossi has been doing plenty of cooking at home, or at least she's trying to do so.
During her appearance on the Tuesday (April 8) episode of Jimmy Kimmel Live!, DeGeneres joked about her wife's cooking, admitting that the actress is staying busy with kitchen duties. "We're trying to support the restaurants here, too. We just went through the fires and mudslides up here and all of the restaurants were out of business. All the waitstaff was laid off. Everybody was just getting back to normal," the comedian explained.
"She's learned how to cook, which is more than I can say I've done. I don't cook and she's gotten pretty good at it. But we do want to support the restaurants here, too, so it's been a little bit of both. She's been cooking. Here's the thing that she's good at. She's good at slicing her fingers," she continued. "One time someone told her to use a mandoline instead of a cheese grater, so she used a mandoline but she didn't know there was a plastic thing that you were supposed to hold the thing with. So then she sliced her finger."
In other news, DeGeneres was recently met a string of negative headlines surrounding a tone-deaf joke about being stuck in quarantine. While folks are practicing social distancing, DeGeneres joked about being shut inside of her $15 million mansion. "This is like being in jail," she said. "Mostly because I've been wearing the same clothes for 10 days and everyone in here is gay."
To keep up to date on the latest news about the coronavirus and to understand what you need to stay safe and healthy, check out the Coronavirus: Fact vs Fiction podcast from CNN Chief Medical Correspondent Dr. Sanjay Gupta.