How To Make That Viral Whipped Coffee Everybody's Obsessed With Right Now
By Emily Lee
April 9, 2020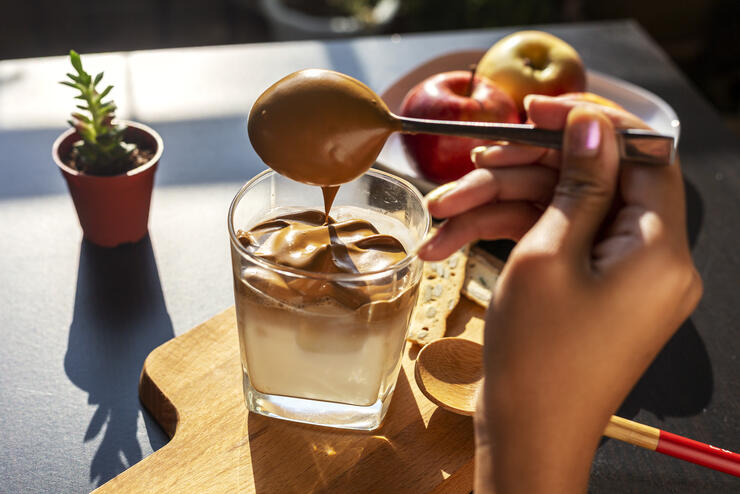 Dalgona coffee may started as a TikTok trend, but it's pretty much taken over the entire internet over the past few weeks. If you want to get in on a popular social distancing activity, but baking banana bread or a loaf of sourdough isn't for you, then you'll definitely want to give this viral whipped coffee a try. It's easy to make, requires only a few ingredients and, best of all, it tastes delicious. So, here's everything you need to know about whipping up a cup of Dalgona Coffee.
Dalgona coffee originated in South Korea and is named after a popular street candy. According to Food Insider, Dalgona is a sweet sponge candy that became popular in the '70s and continues to be a nostalgic treat in South Korea to this day. The sugary, whipped coffee foam of Dalgona Coffee is reportedly inspired by the sweet street treat.
In order make your own Dalgona Coffee, you'll only need five ingredients—instant coffee, granulated sugar, milk, hot water, ice and milk. First, put two 2 tablespoons of instant coffee in a large mixing bowl. Next, add 2 tablespoons of granulated sugar to the bowl. Then you'll add in 2 tablespoons of hot water. Take a whisk or a hand mixer if you have one and mix the ingredients together until the contents of the bowl turn smooth. Then continue to whisk until the mixture starts to thicken into a fluffy substance.
Separately, you'll want to prepare your glass of milk. Grab a medium sized glass. Add your preferred amount of ice and then fill the glass 3/4 of the way up with milk. For the final step, you'll add the whipped coffee mixture to the top of the milk. You can either drink as such or mix the whipped coffee in with the milk—drinkers' choice!
Will you be giving Dalgona Coffee a try?
Photo: Getty