Marcus Mumford Films 'You'll Never Walk Alone' Video While In Isolation
By Katrina Nattress
April 9, 2020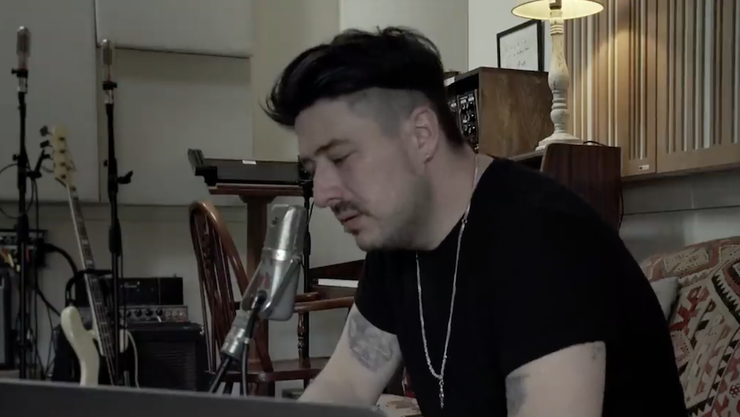 A couple weeks after sharing a new song, "You'll Never Walk Alone," Marcus Mumford shared a music video for the track that was filmed while he and pianist Reuben James were self-isolating at home. The clip begins with the two musicians laughing as they attempt to set up cameras and recording gear, and continue to poke fun of themselves in the video's YouTube description, which reads: "Filmed with a little help from Reubens [sic] Mum & Dad, Marcus' patient wife and some mates on the phone."
"Here's a song for you, because it feels like the right time to get it out," Mumford wrote when the song's audio was released. "All record royalties and record company profits from this song will go to Grenfell Foundation and Warchild UK. These are uncertain times for so many people, and we get that. We're trying to pursue a 'both/and' approach - to find out how we can support our literal neighbours, whilst also thinking of those further away who need our help more than ever. I work with both organisations, I have been in contact with them throughout the COVID pandemic, they're doing amazing work supporting vulnerable people, but it's really hard right now. To find out more, or to make a donation of your own to their extraordinary work, please see these links: https://mumford.lnk.to/donateID"
"I recorded this song after a conversation with my dear friend Jason Sudeikis, as I've been scoring his unreleased television show, Ted Lasso," he divulged. "It may still end up in the show, but we've had it up our sleeve for a couple of months. For lots of reasons we wanted it just to be out in the world sooner rather than later, so here it is, with love. My friend Reuben James came down and played piano on it and if you don't know his work go check it out because he's a genius."
Watch the "You'll Never Walk Alone" video below.
To keep up to date on the latest news about the coronavirus and to understand what you need to stay safe and healthy, check out the Coronavirus: Fact vs Fiction podcast from CNN Chief Medical Correspondent Dr. Sanjay Gupta.