'Sex & The City' Cast (Even Kim Cattrall) Reunite To Honor Medical Workers
By Hayden Brooks
April 9, 2020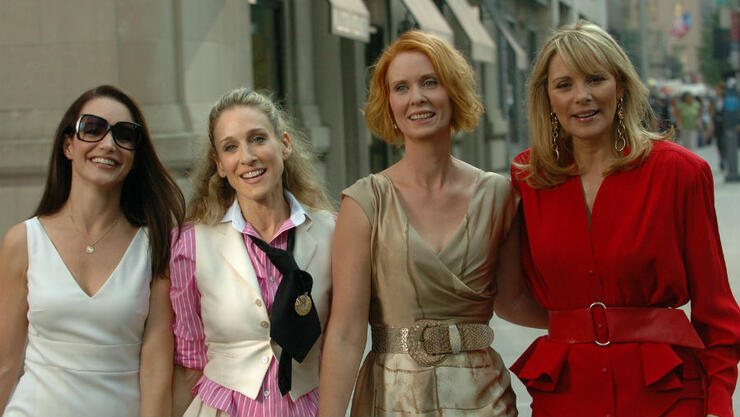 Despite their differences, the women of Sex and the City, as well as their male co-stars, came together to call into the "Bradshow Boys" podcast to share messages of hope for NYC medical workers amid the COVID-19 pandemic.
During the episode, Sarah Jessica Parker, Cynthia Nixon, Kristin Davis and Kim Cattrall showed love to those working on the frontlines of the coronavirus crisis and specifically praise a New York City doctor named Meg, who is working in the COVID-19 Intensive Care Unit at New York Presbyterian-Weill Cornell.
"What Meg is doing, what her colleagues are doing, I don't think we ever imagined that we would be asking this of our medical community," Parker says in the message. Meanwhile, Nixon shared her own personal connection to the facility that Meg works at, saying, "I know how amazing your hospital is, you saved my mother's life when she had a heart attack in 2001. Thank you for what you are doing, I hear your husband is also an ER doctor. You're just our heroes right now. Please stay safe. And just thank you from the bottom of our hearts."
Davis explained that she's happy that the HBO series has been able to bring folks like Meg joy amid the pandemic. "We know it's really difficult and it means so much to all of us that you are on the front lines," she said. "Thank you so much for watching Sex and the City. We're happy to bring you some joy. Keep on working hard. We're thinking about you."
As for Cattrall, who has distanced herself from the franchise after sharing unfortunate allegations about Parker, the actress shared a special thanks to Meg. "Without you, we couldn't keep going. I'm so glad to hear we put a smile on your face as you walk across the park and get on that front line," Cattrall says. "We're with you. We love you. We can't do it without you."
Among the other featured castmates include David Eigenberg, Mario Cantone, Ben Weber and Willie Garson. Scroll on below to watch the reunion montage!
To keep up to date on the latest news about the coronavirus and to understand what you need to stay safe and healthy, check out the Coronavirus: Fact vs Fiction podcast from CNN Chief Medical Correspondent Dr. Sanjay Gupta.