Miranda Lambert Poses For Wild Photo Alongside Tiger King's Joe Exotic
By Lauryn Snapp
April 13, 2020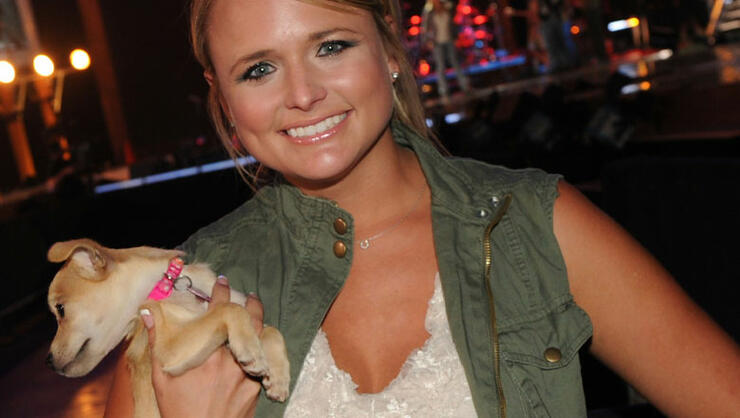 It's only Monday, and Miranda Lambert has won the internet.
The country superstar, who is known not only for surging lyrics and breakout anthems but also for her advocacy toward animal rights and animal welfare, has taken to Instagram to share a series of throwback photos where she is pictured alongside the notorious 'Tiger King.'
That's right, Mr. Joe Exotic and Ran, side by side.
Her caption, "Here's a little Monday memory for y'all. #TigerKing#WayTooPrettyForPrison" 
Miranda is too pretty for prison and is looking pretty in pink next to the Tiger King crew.
See the images for yourself by clicking below.
Miranda knew fans would freak out and offered a backstory on Twitter, saying, "During Hurricane Harvey, the MuttNation Team went to Houston to help relocate existing shelter dogs to free up shelter space for animals separated by their owners. MuttNation asked for volunteers who could transport some dogs from Houston to shelters in Oklahoma, where there was more room, and they could be treated and adopted. Some guy named Joe volunteered his trailer and staff. Now I know it's 'Joe Exotic' I've never been to his zoo, and I didn't even know he had a tiger. OBVIOUSLY I'd never condone animals being treated badly." 
Thankfully, it doesn't sound like we should be bracing ourselves for a duet. Are you watching 'Tiger King' on Netflix? Let Cody Alan know what you think Twitter at @CodyAlan.
Photo Credit: Getty Images.
Chat About Miranda Lambert Poses For Wild Photo Alongside Tiger King's Joe Exotic