Disney Just Shared The Toy Story Land Grilled Cheese Sandwich Recipe
By Emily Lee
April 14, 2020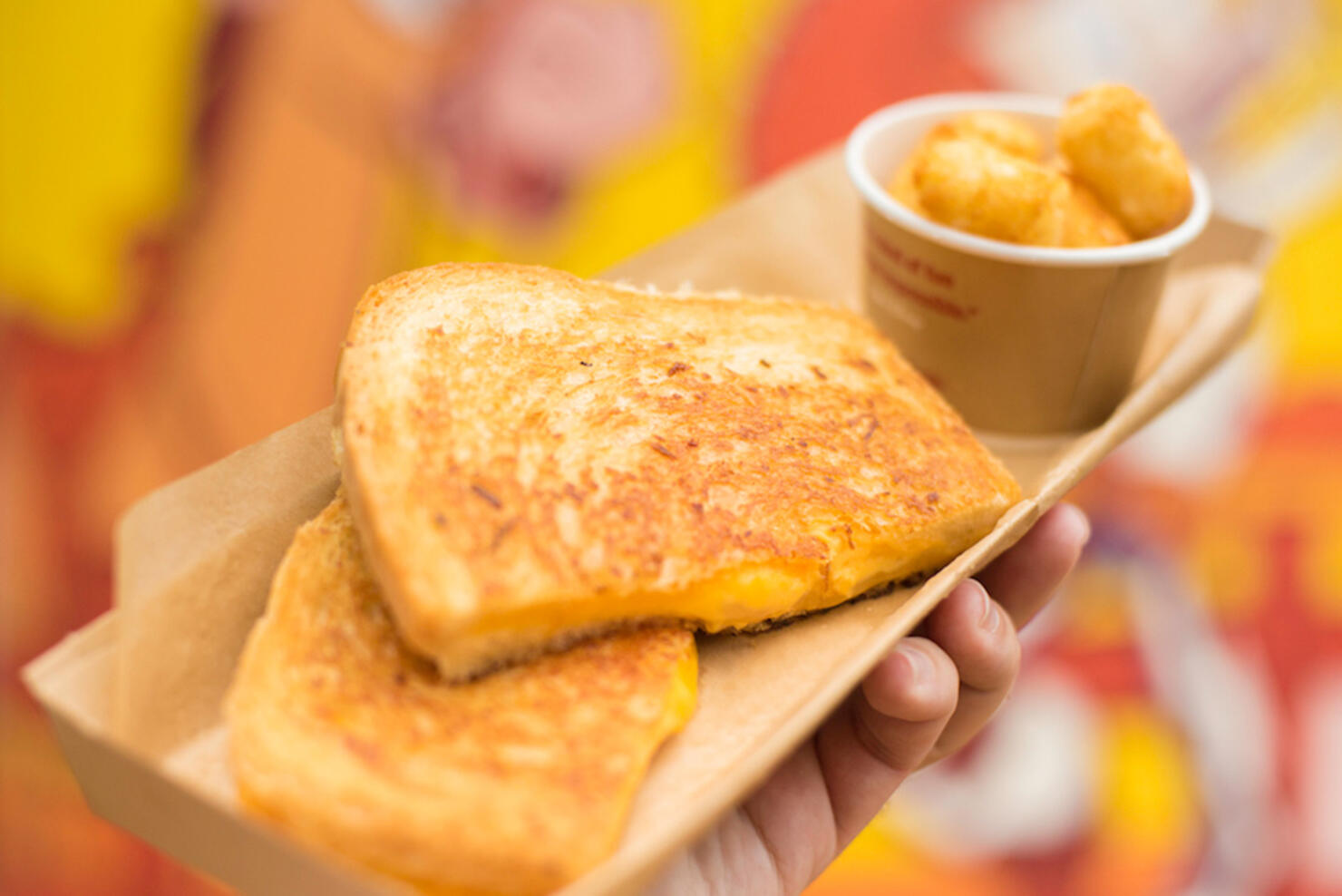 Since most of us would rather be hanging out in Walt Disney World right now instead of stuck at home, the House of Mouse is doing their best to help bring the magic to you. Last week, the official Disney Parks Blog shared the simple, 3 ingredient Dole Whip recipe with would-be park-goers. Fans of the parks were so thrilled by this, Disney decided to share another recipe. In honor of National Grilled Cheese Day, which took place over the weekend, Disney shared the oogey gooey recipe for the grilled three-cheese sandwich from Woody's Lunch Box at Disney's Hollywood Studios.
One of Disney's latest additions to their Florida parks is the new Toy Story Land, which makes guests feel like they've been shrunk down to the size of a toy and are getting to explore Andy's backyard with Woody, Buzz and the rest of the gang. Tucked away in this new land is the quick service restaurant Woody's Lunchbox, where you can find many delicious menu items. A guest favorite, of course, is the grilled three-cheese sandwich.
"While we can't visit Andy's backyard right now, this recipe is just one more great way to create #DisneyMagicMoments in your own backyard (or kitchen)," said Alex Dunlap, Disney's Food & Beverage Communications Coordinator told People about Disney's decision to share the recipe.
This grilled cheese is a little more complicated than your typical outing. First you have to make two different spreads for the sandwich. Here are both of the spreads, as well as the sandwich, with their corresponding ingredients:
Cream Cheese Spread
1/2 cup cream cheese
1/2 cup shredded Double Gloucester or cheddar 
2 tablespoons heavy cream
1/4 teaspoon coarse salt
Garlic Spread
1 cup mayonnaise
1 1/2 teaspoons minced garlic
1/2 teaspoon coarse salt
Grilled Three-Cheese Sandwich
8 slices of artisan bread
8 cheddar cheese slices
8 provolone slices
Once you've made the spreads, it's sandwich time. Here's Disney Park Blog's instructions for the delicious recipe:
For Cream Cheese Spread:
Combine cream cheese, Double Gloucester or cheddar, heavy cream, and salt in food processor. Blend until smooth. Set aside.
For Garlic Spread:
Combine mayonnaise, garlic, and salt in small bowl and stir until blended. Set aside.
For Grilled Three-Cheese Sandwich:
Lay out artisan bread slices on parchment paper or large cutting board.
Place 2 slices of cheddar on 4 of the bread slices. Place 2 slices of provolone on remaining bread slices. 
Equally spoon cream cheese spread on slices with provolone. Gently smooth cream cheese spread over each slice.
Press cheddar side and provolone side together.
Heat a large skillet over medium heat for 5 minutes, until hot. 
Brush both sides of the sandwiches with garlic spread. 
Grill sandwiches for 2 minutes on each side, until cheese is melted and bread is golden brown. 
You can check out Disney Parks Blog's full recipe here, as well. Will you be giving this recipe a try?
Photo: Disney Parks Blog