North West Makes The Cutest Cameo In Kim Kardashian's Social Distancing PSA
By Paris Close
April 14, 2020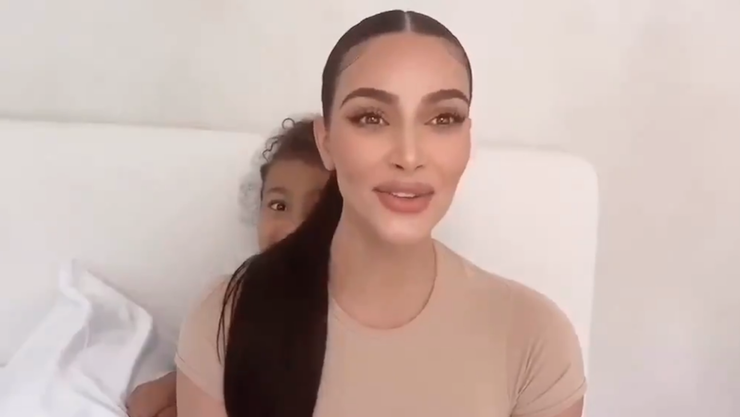 Ahem, North West has something to say!
On Monday (April 13), Kim Kardashian delivered an important message encouraging her fellow Californians to continue practicing social distancing amid the ongoing COVID-19 (coronavirus) pandemic. However, the 39-year-old mommy of four's public service announcement was cutely interrupted by her 6-year-old daughter, North.
"Hi everyone in California, it's Kim Kardashian West and I was just wanted to talk you," the KKW Beauty businesswoman says in her PSA while sitting in bed, before her baby girl chimes in offscreen, "And North West!"
"I just wanted to have a serious conversation with you guys about social distancing," Kim continued, smiling fondly at North. "I know it's California and we've got the most beautiful weather, but we have to start to train ourselves," Kim goes on as North can be heard murmuring, "I want out."
Then North accidentally shakes the camera by hopping on her mom's bed, to which Kim begs, "Can you not jump on the bed? Give me like two seconds to seriously do this."
While humoring her daughter's playful interjections, Kim returns to the message at hand.
"Okay, so guys, we just want you to social distance. There's so many fun, amazing projects you can do, you can spend time with your kids and have so much fun," the reality star continued, as North can be seen hiding behind her mommy. "Trust me, I want to get out — more than you know."
Ending her message on doing mental health checks on loved ones and friends, North teases her mommy with one more cameo, saying, "You should be more busy of your kids, not your friends."
"Facts," Kim agrees, concluding, "Honestly, staying home is saving lives and that's what we're all trying to do here. Alright, that's it. Stay safe."
To keep up to date on the latest news about the coronavirus and to understand what you need to stay safe and healthy, check out the Coronavirus: Fact vs Fiction podcast from CNN Chief Medical Correspondent Dr. Sanjay Gupta.
Photo: Twitter/Kim Kardashian
Chat About North West Makes The Cutest Cameo In Kim Kardashian's Social Distancing PSA