Tekashi 6ix9ine Jokes About Snitching On Tory Lanez's 'Quarantine Radio'
By Peyton Blakemore
April 14, 2020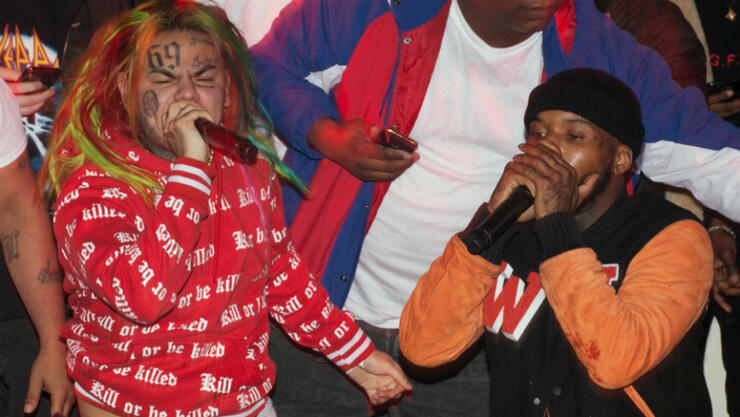 "Quarantine Radio" had quite the special guest on Monday (April 13).
During Tory Lanez's latest Instagram Live session, the "Broke In A Minute" rapper's previous collaborator Tekashi 6ix9ine decided to stop by the infamous IG LIVE hotspot and do what he does best: troll.
"Lemme play this new sh*t or ima snitch on u," 6ix9ine wrote in the comments section. "You not even from America u from Canada."
The hilarious comment caught the attention of Tory who read it aloud and proceeded to have a nice laugh as he repeatedly yelled, "guidelines, guidelines, guidelines," poking fun at his previous Instagram Live suspension.
As fans know, 6ix9ine, who was set to be released from prison on August 2, has been trolling on the 'gram since he was granted an early release earlier this month, following fears of him possibly contracting the coronavirus while behind bars.
Just last week, the "FEFE" rapper changed his Instagram profile photo to an animated version of himself in an orange prison jumpsuit, lounging on a rat trap while eating a piece of cheese. The photo was a clear joke at his own expense as he's been called a rat ever since he cooperated with the federal government to get a reduced sentence after facing 47 years to life behind bars for various crimes.
6ix9ine continued his trolling ways by additionally changing his Instagram bio to read: "Why everybody callin me a snitch? I'm missin something...? 🤔."
Photo: Getty Images
Chat About Tekashi 6ix9ine Jokes About Snitching On Tory Lanez's 'Quarantine Radio'