Jussie Smollett & Alleged Attacker Reportedly Had A 'Sexual Relationship'
By Peyton Blakemore
April 16, 2020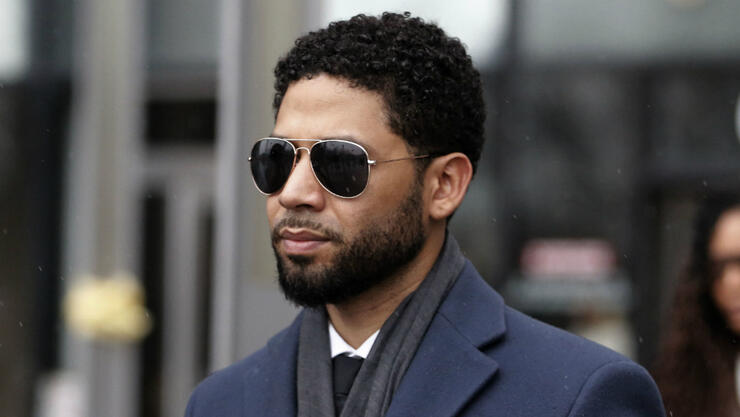 Jussie Smollett may have been more than acquaintances with his alleged attacker Ambimbola "Abel" Osundairo.
According to Page Six, the 37-year-old actor and one of the men who allegedly attacked him last January made multiple visits to an upscale Chicago gay bathhouse prior to Jussie's allegedly staged attack.
"They used to party together and [Jussie] had a sexual relationship with [Abel]," a source told the outlet. "They went to this affluent Chicago bathhouse multiple times and they had to show ID. It's known as a bathhouse where a lot of affluent black gay men hang out. There should be a record [of their visits]."
As previously reported, Jussie is set to stand trial for allegedly orchestrating a fake hate crime against himself. The insider said that the bathhouse records may be subpoenaed during the upcoming trial.
In response to the source's claims, Abel and his brother, Ola, who was allegedly the second attacker, released a statement via their attorney saying, they "have no interest in bringing further attention to false statements… It is obvious the defendants in this lawsuit want to litigate in the media. Ola and Abel Osundairo are focused on revealing all the relevant information in this matter the right way: under oath and in a court of law."
The two have previously denied that they are gay and even sued Jussie's lawyers, Tina Glandian and Mark Geragos, for defamation last year after they insinuated in an interview with Good Morning America that Jussie had a sexual relationship with one of the brothers.
"We have sat back and watched lie after lie being fabricated about us in the media only so one big lie can continue to have life. These lies are destroying our character and our reputation in our personal and professional lives," their attorney, Gloria Schmidt, read in a statement on their behalf at the time.
While a judge dismissed "the bulk of the defamation suit" last month, Page Six reports, the suit claimed Jussie's legal team's comments "put the brothers and their family, who are Nigerian, at risk due to the country's inhumane laws that state homosexuality is punishable by up to 14 years in prison and death by stoning if the person is married."
Jussie continues to deny claims that he and the brothers worked together to stage the attack.
Photo: Getty Images
Chat About Jussie Smollett & Alleged Attacker Reportedly Had A 'Sexual Relationship'