5 Seconds Of Summer Unveil Trippy 'Wildflower' Video
By Hayden Brooks
April 17, 2020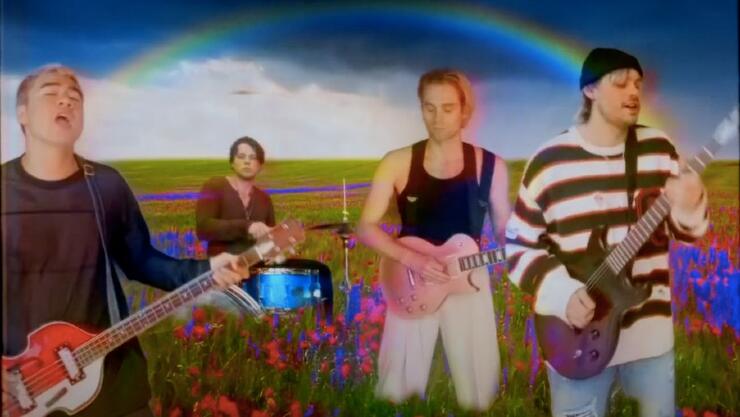 Quarantine life didn't stop 5 Seconds of Summer from shooting a music video for their new single, "Wildflower," and the just-released clip sees the band in a kaleidoscope of lo-fi '90s imagery.
On Thursday (April 16), the four-piece dropped the video, which was directed by Andy DeLuca with assistance from Sarah Eiseman, and it features footage of each of the Aussie bandmates in a trippy world of rainbows, animated flowers and mushrooms. Filmed on a green screen that was passed from each of the members' homes to the next, the clip remains the perfect example of how to create an enticing video even with social distancing limitations. However, it's not all perfect green screen magic as the backdrop comes unexpectedly crashing on Michael Clifford at the end of the clip.
"Everyone filmed their parts at home with an iPhone and later sent the footage over to me. We quickly learned animation and drew up several blooming flowers, and also created the trippy colored backgrounds using milk and food dye," DeLuca said of the clip, which was inspired by the early MTV days. "I then spent the next couple of days/nights editing nonstop until my eyes bled and the video was completed. It definitely has pushed us to create something we normally wouldn't, using only our brains and our hands."
"WIldflower" serves as the fifth single off the group's fourth studio album, Calm, which dropped in late March. Interestingly enough, the track is also the only song on the LP to feature bassist Calum Hood (or any other member besides Luke Hemmings) on lead vocals. "We wanted to make the chorus kind of a choose-your-own-adventure, where some words are left out and then accentuated by these big stabs of synth," Hood said of the track. "It lets everyone come up with their own interpretation, and fill in whatever they think those missing lyrics might be."
Chat About 5 Seconds Of Summer Unveil Trippy 'Wildflower' Video