Lewis Capaldi Kicks off First Responder Fridays with 'Dancing Queen' Cover
By Taylor Fields
April 17, 2020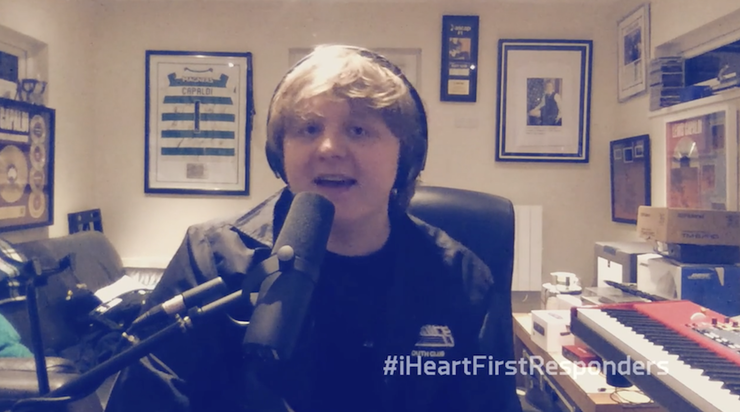 Lewis Capaldi is helping to honor the many first responders who are risking their lives daily to save others during the coronavirus pandemic as the Scottish singer/songwriter kicked off the very first "iHeartRadio's First Responder Fridays with FirstNet, Built with AT&T."
During the very first First Responder Fridays, Lewis Capaldi performed several songs and as he said to all those watching, "I am gonna sing some songs about feelings, [which] you might just see equally as noble as saving lives." Capaldi performed his hits "Before You Go" and "Someone You Loved," as well as a cover of ABBA's iconic song "Dancing Queen." He said of the 1976 hit, "The reason I chose to do this next song was because it makes me feel like lovely ... like a sexy man. And I want everyone to feel the sexiness."
Lewis also performed "Hold Me While You Wait," and explained the story of how the song is inspired by a breakup. He recalled, "It's a song about a lady who I was in a relationship with. And it was going smooth, as smooth as you can imagine, as smooth as a ski slope. And one day, she said, 'Lewis, can I have a quick word?' And I said, 'Of course, my darling. What is it?' And she said to me, 'Lewis ... slight issue with me and you as a couple. I find you revolting in every way possible, and you are really a disgusting human being. And I would like to leave you, effective immediately.' And I said, 'Oh goodness. Well, that has come as a shock, let me be honest with you here.' And I said, 'Well, before you go, how's this for a counter offer? How about you don't leave me, and instead we cuddle? We hug it out and let's see if that, at all, eases your disgust for me as a human being.' It didn't, and to this day, still not a couple, so there you go. It all worked out."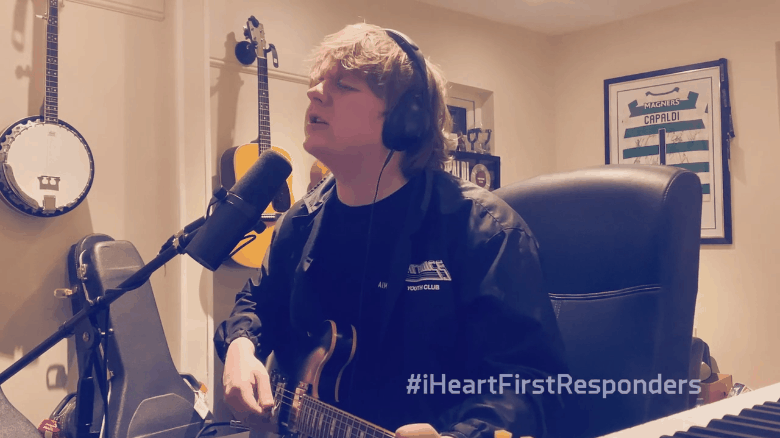 Throughout the special, viewers also got to hear from some first responders themselves, including Stanley Barnes, a firefighter and paramedic in the tight-knit community of Farmington Hills, Michigan. He recalled of what it's been like responding to calls, "Every call that we go on is a possible call that could change the lives of, not just the citizens that we're calling on, but us as responders as well." He later added, "We signed up for this, but our families didn't. So, that heightens the stress level — every call could be a game-changer for us."
In addition to his acoustic performance, Lewis Capaldi also thanked all first responders and said, "A huge thank you to the first responders around the world for everything that they've been doing. And not only at this kinda crazy, tumultuous time, but in general. You're incredible, so thank you very, very much."
The musician also had this message for everyone else at home: "To everyone at home, I know this is very, very weird, and I have absolutely no clue how to deal with it, but all I can say is try and stay as strong as possible, and just try and get through it, and hopefully this is over as soon as possible. But, in the meantime, just stay safe, stay inside, and if you think one of your family and friends might be struggling, reach out and have a chat with them. Because it's important that we try and help our loved ones through this."
iHeartRadio's First Responder Fridays with FirstNet, Built with AT&T is meant to pay tribute to and recognize the amazing work of the individuals on the frontlines of the COVID-19 pandemic, and the series also seeks to help raise money for organizations who are supporting these heroes. This week's inaugural special is helping to raise money for World Central Kitchen, which is an organization who brings food to those who need it most.
As host Ryan Seacrest explained, World Central Kitchen delivers "meals to kids who have lost their school lunches. Which in many cases is their only meal of the day." He added, "They're bringing fresh food to house-bound seniors, as well as our first responders and frontline workers, which today has totaled one million meals and counting. In addition, World Central Kitchen is making these meals with local restaurants, which allows them to stay open, for their employees to keep their jobs — everybody is benefitting." Donations can be made to World Central Kitchen at wck.org/firstresponderfridays.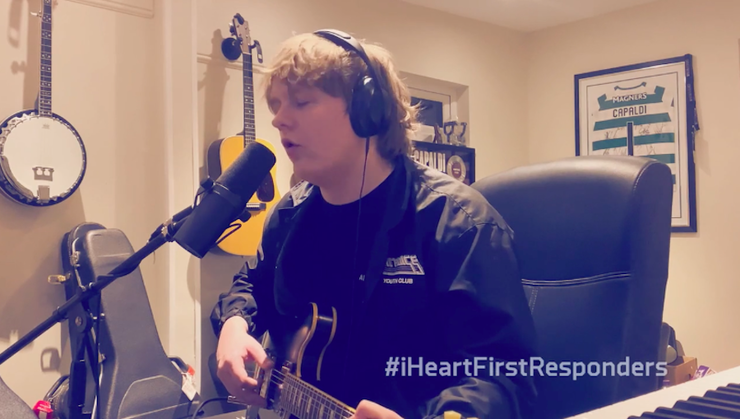 Chat About Lewis Capaldi Kicks off First Responder Fridays with 'Dancing Queen' Cover