Elton John Inspires All With 'I'm Still Standing' Performance
By Emily Lee
April 18, 2020
On Saturday (April 18), dozens of celebrities and artists teamed up for One World: Together at Home, which brings about a historic collaboration between Global Citizen and the World Health Organization (WHO) for an amazing cause. This special event will show solidarity with frontline healthcare workers, as well as providing positivity and inspiration for those of us who must remain home in an effort to stop the spread of COVID-19. Since we can't gather together to enjoy musical performances for the foreseeable future, Global Citizen and WHO brought the music to us through our televisions and computers instead.
Elton John was one of the many talented artists who took part in One World: Together at Home. Of all the songs in his catalogue, John chose to sing his 1983 classic 'I'm Still Standing.' One only has to listen to lyrics to wager a pretty good guess why this is the track John chose to perform. "You know I'm still standing better than I ever did/Looking like a true survivor, feeling like a little kid/I'm still standing after all this time," John sings in the song. There's no denying this is a message many of us need to hear right now.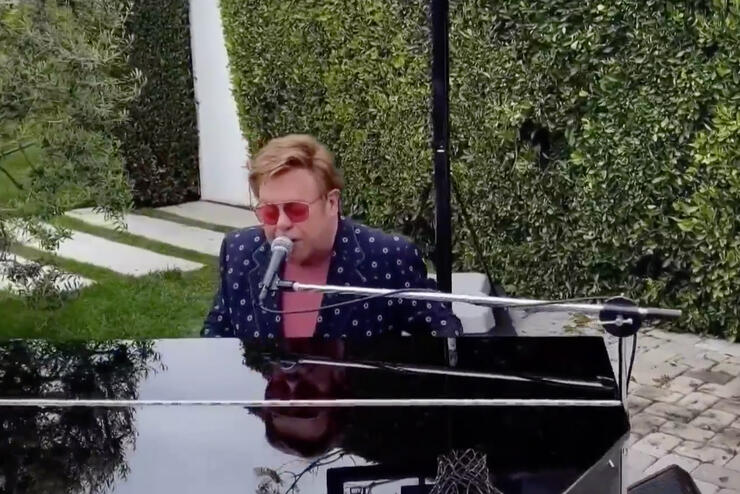 The musical icon also took a moment to thank everyone doing their best to fight the pandemic and keep the rest of us healthy and safe. Before One World: Together at Home aired, John echoed this sentiment on Instagram. In his post, he called the event a "a global display of unity" as we all come together to show support and honor the essential workers across the globe work hard day and night to flatten the curve and stop the pandemic.
To find out more about how you can help support the WHO's efforts to fight the pandemic, simply visit act.me to learn how you can play your part.
Photo: One World: Together at Home
Chat About Elton John Inspires All With 'I'm Still Standing' Performance