Crazy Video Has Dogs Chasing Cow Into Pool, Cowboys, Hysterical Commentary
By Dave Basner
April 20, 2020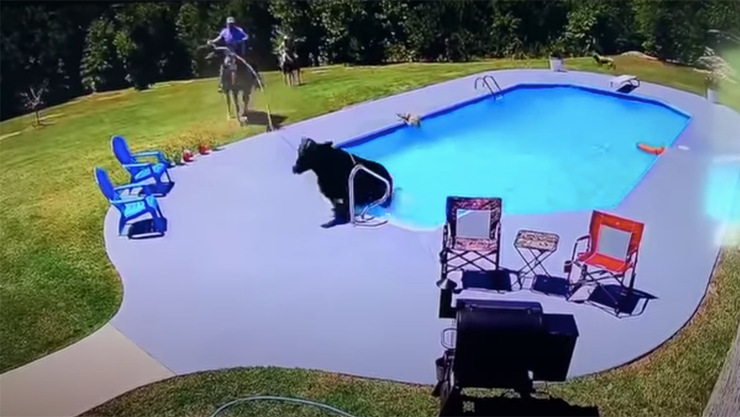 There are some strange things happening in the world right now, but that still might not prepare you for what goes down in this video. An Alabama man named Michael French shared the clip, which he said his niece sent him. It shows security camera footage of a tranquil backyard swimming pool, but then the unexpected happens.
In the distance, two dogs can be seen trying to herd a cow, but they wind up chasing it into the pool. The cow struggles to get out and a dog jumps in with the bovine creature, only to get dunked in the water. Then, out of the trees along the edge the property, a lone cowboy emerges with a lasso in his hands. Another cowboy follows as the first one ropes the cow on the first try, helping to get him out of the pool. The cow then gets loose again, causing one of the horses to jump. The chaos continues as the video ends.
While the entire clip is thoroughly entertaining without sound, listening to it with volume takes it to a whole new level thanks to the hysterical commentary Michael adds.
Commenters loved the video and some even want to petition ESPN to hire Michael as a commentator.
While no one officially knows what happened to the cow, most likely he was wrangled back to the ranch where he came from and the pool's owner was given an apology.
Photo: YouTube/MichaelFrench