Eminem Celebrates 12 Years Of Sobriety: See The Photo
By Paris Close
April 21, 2020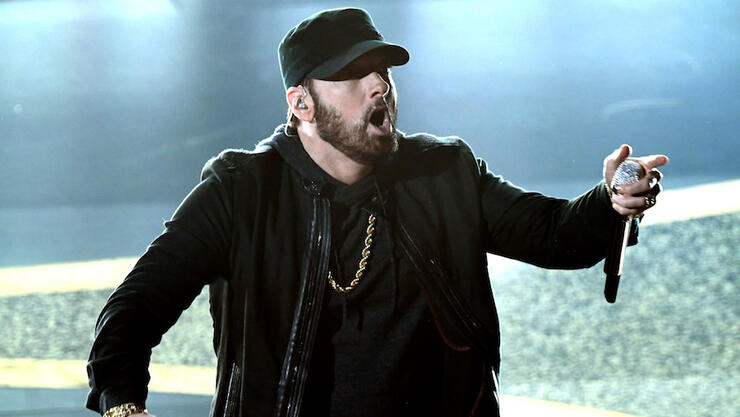 Eminem celebrated a personal milestone this week.
The "Not Afraid" rapper marked his 12th year of sobriety on Monday (April 20) and shared the achievement with his fans on social media. "Clean dozen, in the books! I'm not afraid," the Detroit native wrote with a picture of his celebratory sobriety coin, freshly emblazoned with the number "12" surrounded by the three legacies of AA including "unity," "service" and "recovery."
The Rap God, who was once addicted to prescription pills like Ambien, Valium, and Vicodin, began his sobriety journey on April 20, 2008, inspired by the near-fatal methadone overdose he suffered in December 2007.
On his road to recovery, Eminem started a 12-step program to get clean again. The following year, he'd release Relapse, tackling subjects like drug rehabilitation and relapse.
The "Lose Yourself" emcee would go on to address his near-death encounter on the companion album, 2010's Recovery. Speaking of the record's importance and what he'd been striving to recover from at the time, Eminem told The New York Times: "Vicodin, Valium and Ambien, and toward the end, which caused my overdose, methadone. I didn't know it was methadone. I used to get pills wherever I could. I was just taking anything that anybody was giving to me."
While in rehab, Eminem detailed how intense cardio regimes helped him battle addiction and also function sober. "I got an addict's brain, and when it came to running, I think I got a little carried away. I became a f—ing hamster. Seventeen miles a day on a treadmill," he told Men's Journal. "I would get up in the morning, and before I went to the studio, I would run eight and a half miles in about an hour. Then I'd come home and run another eight and a half."
Photo: Getty Images