Hilarious Titles On Theatre's Marquee Are Getting Us Through The Pandemic
By Dave Basner
April 23, 2020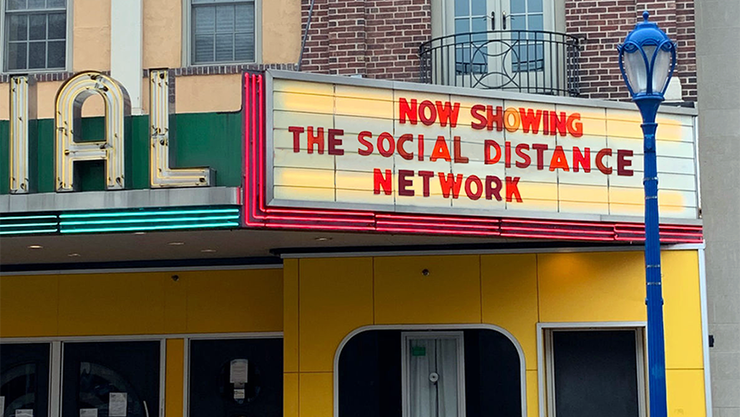 Like all venues across the country, the Colonial Theatre in Phoenixville, Pennsylvania had to shut down as part of the efforts to slow the spread of coronavirus. For most other theaters, this meant letting their marquees go dark, but the Colonial refused to do that and instead have used their sign to bring smiles to passersby. In place of the names of films screening at the iconic local landmark, they've put some very punny, very relevant titles under the phrase "Now Showing."
From Mr. Smith Goes To Wash His Hands to Don't Stand By Me to Scarf Face, the witty titles aren't just making people laugh, they're helping the theatre stay afloat. According to the Philadelphia Inquirer, among the donations the Colonial has received was a check from one man sent for $25 with a note explaining, "A sense of humor is a sign of hope."
The Colonial is now leaning into that idea, allowing anyone to suggest a title to be spotlighted on their marquee, thanks to their online Punny Marquee Title Contest. They've already gotten hundreds of entries, among them The Dark Knight Rinses, Good Will Hunting For Toilet Paper, Guess Who's Not Coming To Dinner, Shakespeare In Gloves and Don't Lean On Me.
Winners are announced every Tuesday and Thursday on the theater's Facebook and Instagram pages. And they aren't letting the stay-at-home order stop them either. While it may keep them from changing the marquee in person - a job that takes two people - one on the marquee and one on a ladder - they are still adjusting the marquee virtually, using Photoshop to put the titles on the sign - no easy task for the Colonial's Marketing and Communications Coordinator, Michal Kortsarts. It takes her two to three hours to alter the 117-year-old Colonial's marquee.
You can submit your own entries for the contest at the theater's website. You can also check out some virtual screenings there too or donate to the theater, which is a non-profit that earns 75% of its revenue from ticket sales.
You might even recognize the Colonial as well - it's where the 1958 Steve McQueen horror classic The Blob was filmed.
Photo Credit: Michal Kortsarts, Colonial Theatre
Chat About Hilarious Titles On Theatre's Marquee Are Getting Us Through The Pandemic