Eddie Van Halen Once Threatened Fred Durst With A Gun After A Jam Session
By Andrew Magnotta @AndrewMagnotta
April 24, 2020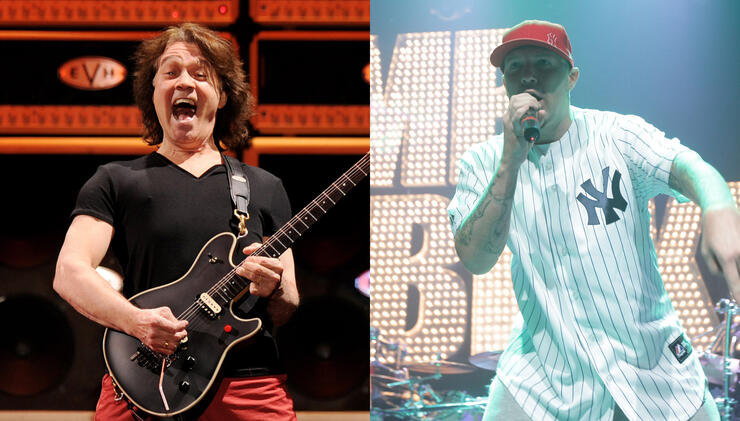 The author of a new Eddie Van Halen photo book claims the rock guitar icon once threatened Limp Bizkit frontman Fred Durst with a gun after a jam session that went south.
Biographer Andrew Bennett writes that Van Halen and Durst met at a party sometime in 2001 after Limp Bizkit guitarist Wes Borland had left the band.
At the time, the band was holding auditions for Borland's replacement. As Limp Bizkit was one of the biggest bands in the world at the time, a record executive suggested Van Halen consider a collaboration.
Durst reportedly reacted like most people would after hearing that suggestion: "That would be hilarious. The greatest guitar player ever plays with the worst band ever."
But as Bennett's story goes, Van Halen was more optimistic, and the two parties set up a jam session at Durst's house in Beverly Hills.
Van Halen showed up with some guitars, amplifiers and other gear, but was bothered by people smoking marijuana in the jam space and left abruptly.
A day went by and Van Halen grew furious with Durst for not reaching out to arrange the return of his gear.
Van Halen's mood soured and he headed back to Durst's place in a military vehicle he had acquired at an auction. When he got out of the large vehicle, he was wearing nothing but jeans held up by rope and ragged combat boots.
With his hair in a Samurai bun and a gun in his hand, he knocked on the door and Durst answered.
Van Halen reportedly recalled to Bennett what happened next: "I put my gun to that stupid f---ing red had of his, and I said, 'Where's my s--t, motherf---er?' That f---ing guy just turned to one of his employees and starts yelling at him to grab my s--t.'
Van Halen continued holding the gun at Durst as people went back and forth from the house, loading his gear into the truck.
Bennett's book, Eruption in the Canyon: 212 Days & nights With the Genius of Eddie Van Halen, is available now.
Photo: Getty Images
Chat About Eddie Van Halen Once Threatened Fred Durst With A Gun After A Jam Session