Thomas Rhett Kicking Off iHeartRadio Living Room Concert Series
By Taylor Fields
April 27, 2020
To say the world is experiencing a challenging time as it faces the coronavirus pandemic is an understatement. But, even through all of the difficult moments, people are stepping up everywhere to help those in need, showcasing the power of coming together and community.
To celebrate the importance of community, some of your favorite artists will help to continue to bring people together throughout these trying times during the iHeartRadio Living Room Concert Series presented by State Farm — and kicking off the at home concert series is Thomas Rhett.
The weekly show will be video streamed and broadcast every Wednesday, beginning April 29th, and fans can tune in via iHeartRadio's YouTube Channel, as well as across iHeartRadio stations nationwide, at 7pm local time.
The iHeartRadio Living Room Concert Series presented by State Farm will also pay tribute to all of the incredible essential workers, who are sacrificing so much on a daily basis to help others through this pandemic — basically, the ultimate in being a good neighbor. Each week during the show, a donation will be made to a charitable organization, and the first episode, featuring Thomas Rhett, will benefit Feeding America. Viewers at home can also donate via a call to action during the intimate concert.
As America comes together, while staying distant in their own homes, make sure to tune in on April 29th.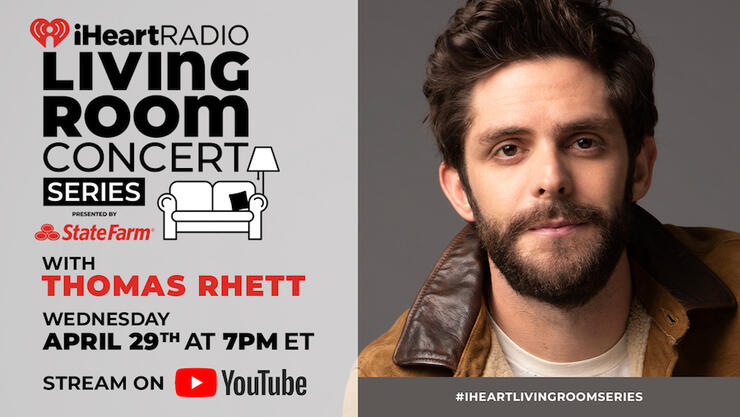 Chat About Thomas Rhett Kicking Off iHeartRadio Living Room Concert Series