Tommy Lee Is Done Answering Fan Mail After Finding Signed Items On eBay
By Andrew Magnotta @AndrewMagnotta
April 29, 2020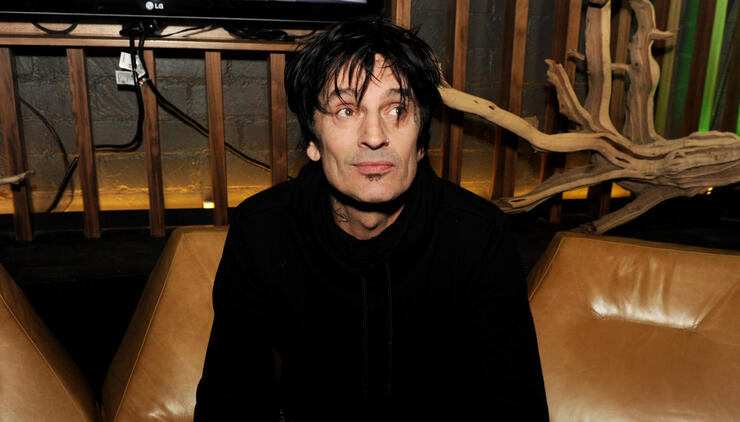 Mötley Crüe drummer Tommy Lee announced that he's finished answering fan mail after some people apparently scammed him to get autographs that they turned around and sold on eBay.
Lee shared several examples Tuesday via social media of items he signed and sent to fans only to later see them up for sale online.
"I thought I was doing the right thing by addressing the fan mail to people by their names so that they wouldn't be re-sold online, but now people are being so shady that they are whiting out their names and reselling on eBay," Lee wrote in the caption of an Instagram post.
The post contained screenshots of three eBay listings, one of whicMötley Crüe Moving Forward As If 'The Stadium Tour' Will Happen h was a drum head with Lee's signature and the name of the recipient either covered up or erased.
Three signed photos were made out to "Patrick," "John" and "Matt," respectively.
Lee concluded that he can no longer justify the "literally hundreds" of hours he spends signing and sending items to fans knowing that many of the interactions aren't in good faith.
"Those of you that got a signature, I hope you enjoy & appreciate it, and those of you that are selling can go f--k yourselves!!!" he wrote. "I'M DONE! DON'T SEND ANYMORE AUTOGRAPH REQUESTS!"
Blabbermouth.net points out that Lee was the only member of the band who did not take part in fan meet-and-greets during Mötley Crüe's 'Final Tour' in 2015 - 2014.
He said that the time that while he enjoys meeting fans, he doesn't like the "circumstances" of the meet-and-greets on tour.
"I love you all and I'll gladly high-five y'all if I see you out 'n' about — and you won't have to pay me for that," he said in a 2013 Facebook post.
Mötley Crüe has yet to make an announcement on the fate of its reunion tour this summer, which is set to kick off on June 18 in Jacksonville, Florida.
Photo: Getty Images
Chat About Tommy Lee Is Done Answering Fan Mail After Finding Signed Items On eBay