Drake Says He's Ready To Get Back In The Studio With Lil Wayne 'Any Time'
By Katrina Nattress
May 2, 2020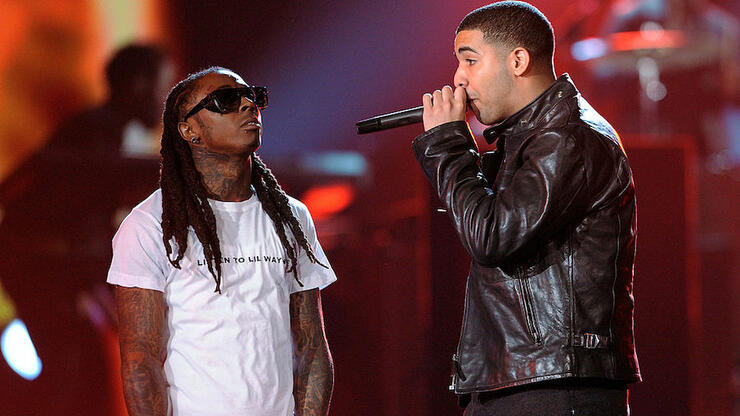 Drake may have just dropped his new mixtape Dark Lane Demo Tapes and announced that his sixth studio album is dropping this summer, but that doesn't mean he's done working on music. Drizzy recently stopped by Lil Wayne's radio show, where they discussed future collaborations.
"The world want to know, Mack want to know, my mama want to know when is we going to give the people another joint, man? Me and you. Come on now," Weezy said.
"I'm ready any time," Drake replied without hesitation.
Lil Wayne went on to explain how he and his YM teammate are both perfectionists, and that's why their releases are staggered.
"Now, something about me and Drizzy songs that we do together, we are both perfectionists," he said. "So, it's not like, you send me a joint, I'm going to throw a verse on there and…We got a standard we got to live up to, and we got a track record and a legacy we got to always protect. And then on top of that, it's like we have this thing where it's like, well, if I'm a send you a joint and I'm going to go first, first of all, I already know, it's like, all right, I know this man's about to go crazy on me."
So when can we expect a new son? Maybe sooner than you'd think. "Well look, on that note, you have my word as a man and Mack, you can hold me to this when we get off the phone, I'm going to be in the studio," Drake said. "What's today? Friday? I'm going to be in the studio all weekend. By midweek or maybe Monday night, you will have at least two joints."
Drake and Wayne have collaborated on past tracks including "Believe Me," "Miss Me," "Right Above It," and "HYFR."
Photo: Getty Images 
Chat About Drake Says He's Ready To Get Back In The Studio With Lil Wayne 'Any Time'