Gene Simmons Honors 75th Anniversary Of His Mother's Nazi Liberation
By Andrew Magnotta @AndrewMagnotta
May 4, 2020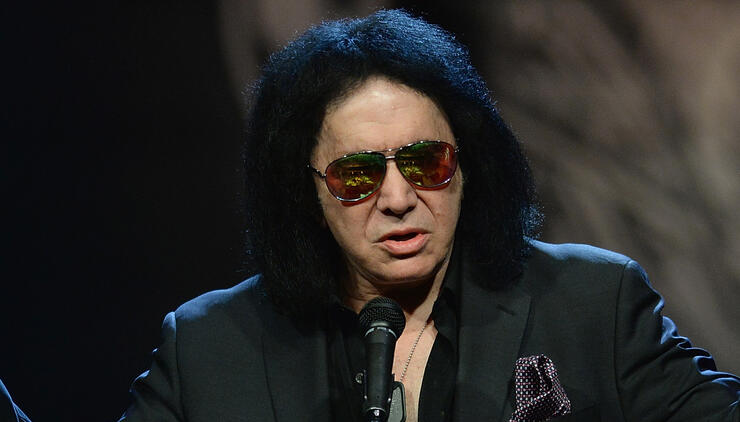 Kiss bassist Gene Simmons was recently shown documents detailing his mother Flora Klein's Holocaust ordeal.
Simmons was recently contacted by the German newspaper Bild, which began a search for the documents after Klein's death in 2018 at age 92. Simmons agreed to have his emotional reaction recorded.
May 5, 2020, marks the 75th anniversary of Flora's liberation from the Mauthausen concentration camp by American soldiers. Simmons has often said that recognition of what his mother and her family endured during World War II is never far from his mind.
"My children simply cannot understand all of this," he remarked as he poured over the documents. "They cannot believe it. The things that happened back then. How many people became victims. Not only Jewish people. Homosexuals, political dissidents, Sinti and Roma. Millions and millions..."
Documents obtained by Bild include approximately 100 pages compiled from concentration camps, file cards from the Red Cross, documents from the U.S. military and Flora's own petition for restitution after the war.
In one document, Flora recalls the Germans imposing restrictions on Jews after beginning their occupation of her hometown of Budapest in May of 1944. She goes on to recall being brought to the Ravensbrück concentration camp in November of that year, where she was ordered to work in the fields and assigned prisoner number 621010.
She also recalled the murders of her parents and brother at the hands of the Nazis.
"She was strong," Simmons adds. "She fought all of this on her own."
Flora was eventually awarded 1,950 Deutsche marks for her suffering, 150 for each full month in the camps.
Simmons says his mother's story is powerful, but it's amplified by millions of identical ones from others who also suffered under Nazi persecution. He says the Holocaust provides a salient lesson.
"If somebody says that all of this was in the past — that's not true," he said. "It was yesterday. It all happened just now. When you see what recently happened at many elections, that's not good."
Read the full article here.
Photo: Getty Images