Jason Aldean Surprises Daughter Keeley With Prom At Home During Quarantine
By Blake Taylor
May 4, 2020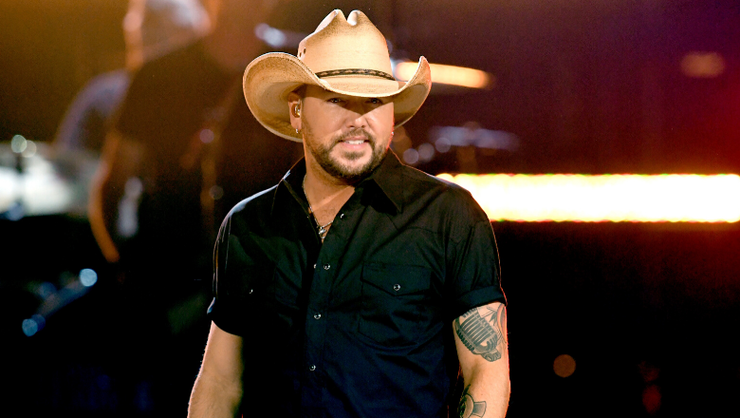 Jason Aldean's oldest daughter Keeley had to miss out on prom this year due to the coronavirus pandemic. To help make the most of what was supposed to be prom weekend, the singer and his wife, Brittany Aldean, surprised her with a prom of her own at home.
On Sunday (May 3), Brittany shared an IGTV video of the party which was held at the family's home in Florida where they are currently quarantining.
"Today is May 2nd, 2020, and it was supposed to be Keeley's junior prom in Nashville, but for obvious reasons it's not happening," she said. "So we are gonna throw her prom at home and so here we go! Let's do it!"
The video continued on to show viewers the "prom meal," which was takeout from P.F. Changs, as well as the gorgeous decorations. The clip then showed Aldean who was dressed in a white linen shirt and khaki shorts as Brittany revealed that he was Keeley's date for the evening. "She lost out on that deal," Aldean jokingly said.
Aldean's daughter, Kendyl, along with the couple's daughter, Navy and son Memphis were all in the video surprising Keeley. "Happy 2020 prom!" they all shout.
"I'm gonna cry!" Keeley exclaimed. Aldean then tells her, "Put your dancing shoes on," adding, "I can't dance."
The video continues on to show the group going outside to eat before heading to the porch to dance. "When Prom 2020 gets canceled, you celebrate at home! SURPRISE KEELEY!!" Brittany wrote in the caption.
Watch the full IGTV video below of the Aldean's surprise prom night below!
Chat About Jason Aldean Surprises Daughter Keeley With Prom At Home During Quarantine