Scott Disick Reportedly Checks Out of Rehab After Photo Leaks
By Taylor Fields
May 4, 2020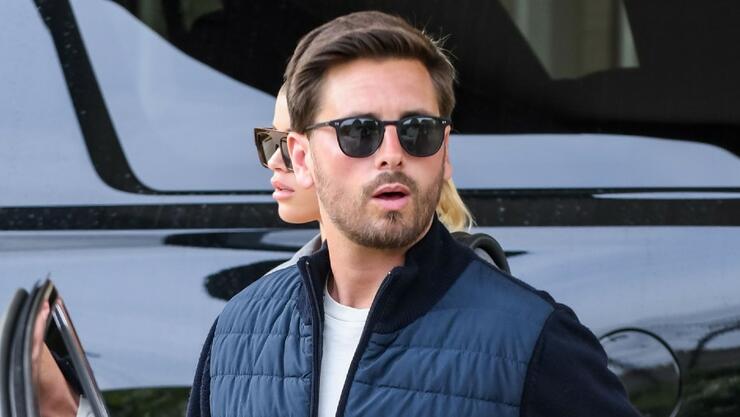 Update 7:13pm ET: TMZ is reporting that Scott Disick has checked himself out of the All Points North Lodge in Edwards, Colorado after a photo of him in the rehab facility leaked. The outlet reports that his lawyer, Pit Bull Marty Singer, said Disick was not there for coke and booze. He says, "In an effort to finally come to terms and deal with the pain that Scott has been silently suffering for many years due to the sudden death of his mother, followed by the death of his father 3 months later, Scott made the decision to check himself into a rehab facility last week to work on his past traumas."
Scott Disick has reportedly checked into rehab again following a relapse, according to a report from Us Weekly. A source revealed to Us that the reality star "is at a medical facility for rehab purposes."
Another report from Daily Mail Online says that the rehab is a "luxury addiction treatment center in The Rocky Mountains" — the All Points North Lodge in Edwards, Colorado — and "arrived last Tuesday" (nearly a week ago). The publication also, reported that he had to "undergo and pass a coronavirus test" before joining others at the rehab center.
Disick, who has struggled with drug and alcohol abuse in the past, has been having a hard time while in quarantine due to the coronavirus pandemic, and resorted to "drinking heavily and taking cocaine." The Daily Mail reports that the 36-year-old "was placed under immediate COVID-19 quarantine and confined to his private suite" after arriving at the treatment center.
A source also told Daily Mail, that he had to participate in a group meeting via Zoom at the facility (due to the quarantine after arrival), and opened up about his struggles with his family, his ex and kids, and the loss of his parents who passed away in 2013 and 2014. The source said, "He said he's having trauma from his past, he mentioned trouble with his ex and said he's also having trouble with his children and he's been taking cocaine and drinking a lot." They added, "He looked pretty skinny and told the group he was coming to rehab to work on his issues and said he was having withdrawal symptoms and was tired and lethargic."
Over the last few weeks, Scott has been sharing snaps from quarantine at home featuring his kids, as well as a shot of himself bike riding on the beach. Disick shares three children, Mason (10), Penelope (7) and Reign (5) with Kourtney Kardashian, and is currently dating Sofia Richie.
Chat About Scott Disick Reportedly Checks Out of Rehab After Photo Leaks